APPLE PIE STREUSEL MUFFINS adapted from OMG CHOCOLATE DESERTS I made this batch using a Texas size muffin pan, but find they are better as regular size because they are so rich and filling.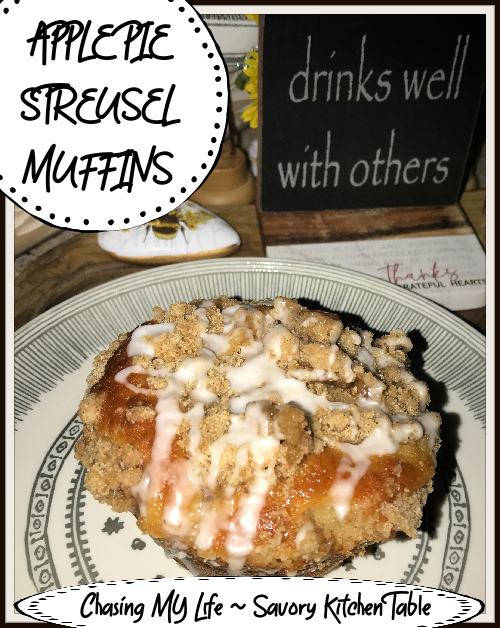 CINNAMON STREUSEL TOPPING
1 cup all-purpose flour
¼ cup granulated sugar
¼ cup light brown sugar
6 tablespoons unsalted butter, melted and cooled slightly
1 teaspoon QUALITY cinnamon
In a small bowl, whisk together flour, sugar, brown sugar and cinnamon, add melted butter and stir with a fork until crumbly and set in the fridge until ready to use.
MUFFINS
2 cup all purpose flour
3 teaspoons baking powder
½ teaspoon salt
¼ teaspoon ground nutmeg
1 1/2 teaspoons QUALITY ground cinnamon
2 LARGE eggs
1 cup granulated sugar
1 cup vanilla Greek yogurt
1/2 cup vegetable oil
1 teaspoon PURE vanilla extract
1 ½ cups COMSTOCK apple pie filling, chopped small

Preheat the oven to 400°.

Line standard muffin pan with paper liners and set aside.

Prepare streusel topping and set aside.

In a large bowl stir together flour, baking powder, salt, cinnamon and nutmeg, then set aside.

In a medium bowl, whisk together eggs and granulated sugar until combined.

Whisk in yogurt, oil, and vanilla extract – mixture should be a pale yellow.

Fold wet ingredients into dry ingredients and mix everything together by hand. The batter will be quite thick.

Spoon batter into prepared muffin tins, filling less than two thirds.
Tap the pan onto working surface to remove air bubbles.
Add a heaping tablespoon of chopped apple pie filling on top of batter and gently press the apples into the batter.
Reduce the heat to 375° and place pan in center of shelf.
Bake about 19-22 minutes or until the toothpick inserted in the center comes out clean.
Cool for 5 minutes in the pan then remove muffins and cool on a wire rack.
Honestly these are great without the glaze, but they are phenomenal with the glaze.
GLAZE
1 cup powdered sugar
1–2 Tablespoons milk
Stir together powdered sugar and milk. If it's too thin add more powdered sugar, if it's too thick add more milk.

Drizzle glaze over cooled muffins.