I've been making this moist and flavorful banana bread, or at least my version of it since college. I found the original recipe in the Village Voice and adapted it to my liking 😀 It's been in our family cookbook and a friend uses it for her family holidays and when making boxes to send to the troops overseas. I gave her a copy of the family cookbook and she loved it. When she posted that on Facebook, it melted my heart to see her copy of the recipe all banana bread splattered and well used!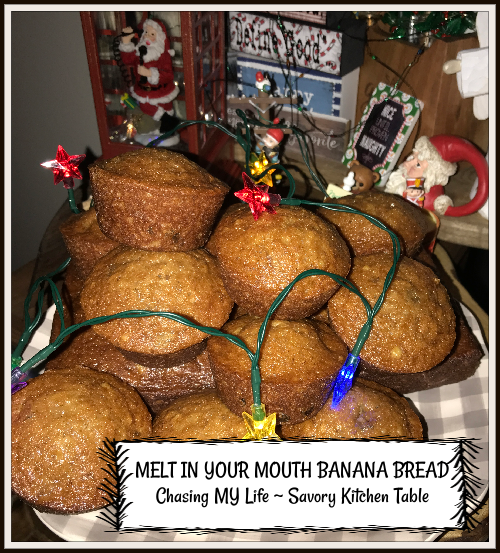 MELT IN YOUR MOUTH BANANA BREAD or SNACK CAKE
1 cup packed brown sugar
1 cup butter, DIVIDED
2 JUMBO eggs
2 tablespoons cinnamon
1/2 cup golden raisins, currants or craisins
1/4 cup coconut flavored rum
1/2 cup crushed walnuts
2 LARGE, RIPE bananas
1/2 cup sugar
2 cups all purpose flour
1 teaspoon baking powder
1/2 teaspoon baking soda
Place the raisins in a small bowl and cover with rum. Set aside to soak for 10 minutes and then drain WELL.


Combine 1 stick of the butter, brown sugar and bananas in a sauce pan c

ooking until smooth and sugar is dissolved.

Add nuts and raisins.

Stir until well coated & set aside to cool.

Cream softened butter, sugar and eggs until fluffy.

Sift together flour, baking powder, baking soda and cinnamon.

Add this to the creamed mixture gradually until well blended.

Add cooled banana mixture.

Pour into greased and floured pan(s)*

Bake at 350° for 45+ minutes.
*NOTE:* This recipe will make 2 large loaves or 1 snack cake or 18 muffins…
FROSTING (optional) – use this if you want to turn it into a snack cake.
8 ounces cream cheese, softened
1/4 cup butter, softened
juice of 1 SMALL lemon
1 teaspoons PURE vanilla extract
1 1/2 cups powdered sugar
In a medium bowl beat cream cheese and butter until smooth.

Add lemon juice and vanilla. Beat until blended.

Add powdered sugar gradually until well blended and smooth.

Refrigerate 1 hour to set icing before serving.