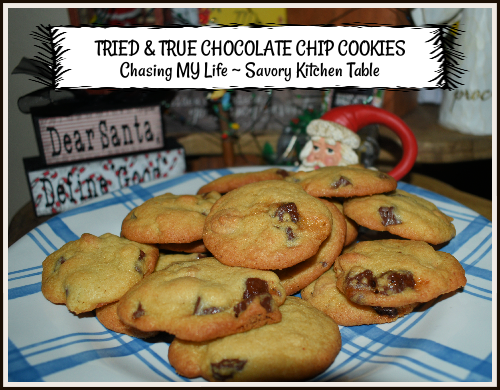 TRIED & TRUE CHOCOLATE CHIP COOKIES Yields 36 cookies
This is TRULY the best chocolate chip cookie recipe ever that turns out perfectly EVERY single time! I have been making this recipe for many, many years and it is always a winner!

1 cup SALTED butter, softened
1 cup sugar
1 cup PACKED light brown sugar
2 teaspoons PURE vanilla extract
1 teaspoon QUALITY cinnamon
2 LARGE eggs
2 3/4 cups all purpose flour
½ teaspoon baking soda
½ teaspoon baking powder
1 teaspoon sea salt
2 cups QUALITY chocolate chips (or chunks, or chopped chocolate)
Preheat oven to 375°.

Line a baking pan with parchment paper and set aside.
In a medium size bowl mix flour, baking soda, salt, baking powder. Set aside.


Cream together the butter and sugars until combined.

Beat in eggs and vanilla until fluffy.

Mix in the dry ingredients until combined.

Add chocolate chips and mix well.
 Roll the dough 2 tablespoons at a time into balls and place them evenly spaced on your prepared cookie sheets.

Bake in preheated oven for approximately 8-10 minutes. Take them out when they are just

BARELY

starting to turn brown. DO NOT OVER BAKE!! When you remove the cookies from the oven they will still look doughy. This is the secret that makes these cookies so absolutely amazing!

Let them sit on the baking pan for 2 minutes before removing to cooling rack.

Store cookies in an airtight container at room temperature for up to 5 days, or in the freezer for up to 2 months.
NOTE:
I only use pure, fine sea salt. Sea salt is different than table salt (that is iodized), so if you use salt other than sea salt I recommend testing the recipe first with ½ teaspoon and then adjust to your taste.

The size of your eggs can affect the texture and consistency. The dough should NOT be wet or sticky BUT DEFINITELY NOT dry or crumbly either. Add/delete a bit of flour as necessary.
For Christmas I change the recipe a bit by substituting 1/4 cup of cocoa for flour and add ½ tablespoon of red food coloring to make them a red velvet version.
You can also change up the flavor of the chips… butterscotch, caramel, peanut butter… or add nuts if you like.
FREEZE FOR FUTURE USE
Portion dough, roll into balls and freeze in a single layer in an airtight container for up to 2 months.