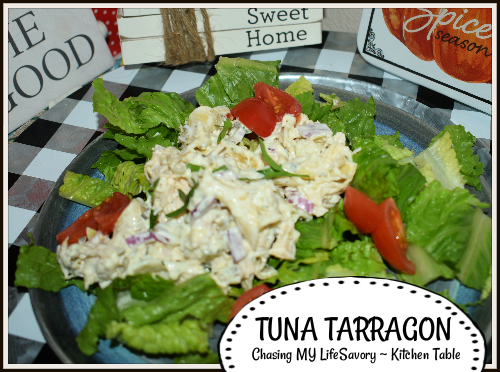 TUNA TARRAGON
1 tablespoon salt
5 cups small shell pasta
*
1 1/4 cups penne pasta
*
1 cup egg noodles
*
2 tablespoons avocado oil
2 small cans tuna in water, drained
WELL
1 1/2 cups sweet pickles with their juice
1 3/4 cups Duke's mayonnaise
1 cup celery, diced
1/2 cup sour cream
2 tablespoons apple cider vinegar
1 1/2 tablespoons dried tarragon leaves
FRESH
ground sea salt and black pepper
chopped red onion
chopped tomatoes
Bring a LARGE pot of salted water to a rolling boil.

Add all of your pastas and cook for about 8-10 minutes until al dente.

Drain pasta and cool by running cold water over pasta in strainer.

Drain pasta completely and immediately coat with canola oil to prevent sticking.

Drain pickles, reserving juice and chop pickles.

Drain tuna completely and use a fork to break apart into flakes.

Whisk mayonnaise, sour cream, pickle juice, vinegar, salt and pepper until well blended.

Fold in tuna and pickles into dressing.

Combine the dressing and cooked pasta, mixing thoroughly.

ALLOW SALAD TO MARINATE FOR 8 HOURS!

Serve over a bed of lettuce with chopped red onion and tomatoes.
NOTE 1*: or 2 pounds of your desired pasta mix
ORIGINALLY posted 9-16-2017 but needed a serious updated picture! Save Save