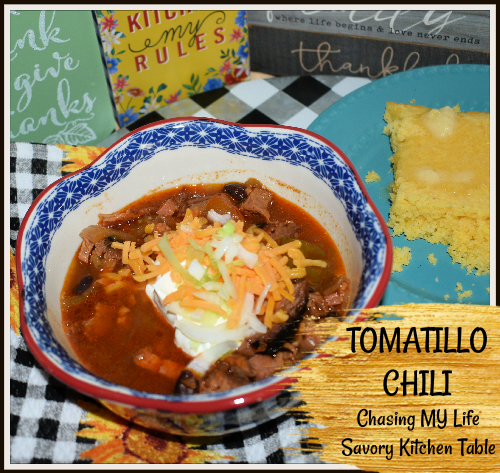 ROASTED TOMATILLO CHILI
10 tomatillos
1 jalapeno
2 tablespoons avocado oil
1 SMALL red pepper, diced
1 Vidalia onion, chopped
3 cloves garlic, minced
FRESH ground sea salt and black pepper
2 teaspoons dried Mexican oregano
2 teaspoons red chile flakes
3 cups homemade chicken bone broth
1 can black beans, drained and rinsed
1 can small great northern (Navy) beans, drained and rinsed
1 can diced fire roasted tomatoes
1/2 cup chopped FRESH cilantro
2 cups chopped rotisserie chicken OR 2 cups diced cooked tri-tip pieces OR crumbled cooked ground beef
sour cream, garnish
grated cheddar cheese, garnish
Preheat oven to 425°.

Peel papers from tomatillos and wash well.

Wash jalapeno halve and seed if preferred.

Arrange tomatillos and jalapeno on baking sheet.

Roast 15-20 minutes until tomatillos burst and brown.

Remove from oven and cool.
Heat avocado oil in soup pot over medium heat.

Sweat onions, red pepper, garlic and spices 5-7 minutes.

Chop tomatillos and jalapeno. Add them to soup pot.

Simmer 10-15 minutes.

Add chosen meat pieces.

Add stock, tomatoes and drained beans. Simmer 20-30 minutes more.

Fold in cilantro.

Serve with sour cream and grated cheese.