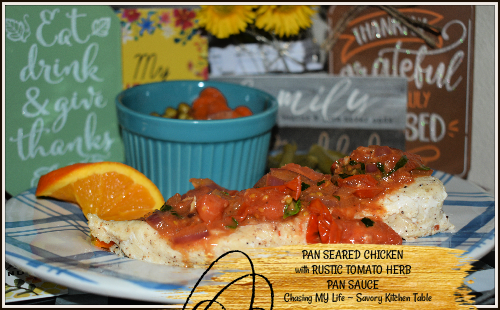 PAN SEARED CHICKEN with RUSTIC TOMATO HERB PAN SAUCE
2 tablespoons unsalted butter, softened
2 garlic cloves, FINELY minced
1 tablespoon chopped FRESH thyme leaves
1 tablespoon chopped FRESH oregano**
1 tablespoon chopped FRESH Italian flat leaf parsley**
1/2 teaspoon sweet paprika
FRESH ground sea salt and black pepper
1/4 cup WONDRA flour
1 small shallot, FINELY chopped
2 cups grape or small cherry tomatoes, halved
4 chicken breasts
Mix together the softened butter, thyme and parika in a small bowl.

Season to taste with FRESH ground sea salt and black pepper.

Melt 1 tablespoon of your herb butter in a heavy skillet over medium heat.

Season chicken breasts with FRESH ground sea salt and black pepper.

Dredge chicken breasts with Wondra flour and then add to the sizzling butter. Sear breast on each side for 3-4 minutes until cooked through.

Transfer chicken to plate, tent with foil and keep warm while you prepare the sauce.

Increase heat slightly.

Add shallots and tomatoes to pan, stirring occasionally, until they begin to char, about 5 minutes.

Mash tomatoes slightly to release their juice.

Add remaining butter, stirring to blend.

Season to taste.

Plate chicken and spoon sauce over.
**NOTE: I like to buy the "Pasta Mix" in the produce section. It is a combination of oregano, basil, thyme and Italian parsley.