Gazpacho is Spanish in tradition, but with the addition of the Feta cheese I feel like it is more of a Greek and Spanish fusion. Hubby loves the Mediterranean flavors while I pass on it every time, but it's a GREAT recipe for a BBQ or picnic.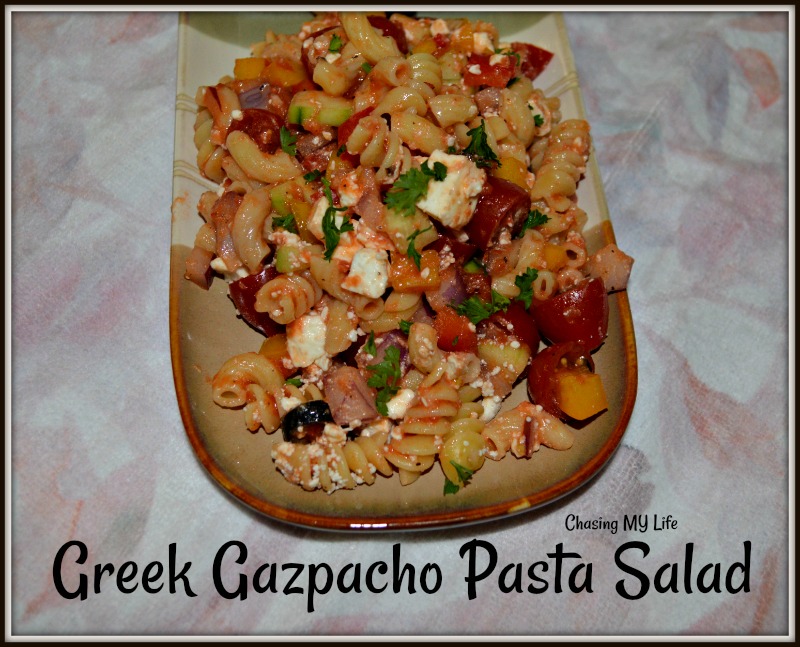 GREEK GAZPACHO PASTA SALAD
1 pound rotini, prepared al dente and rinsed in cold water and drained
SAUCE
14 1/2 ounce can fire roasted tomatoes
1/4 cup FRESH basil leaves
1 tablespoon red wine vinegar
2-3 cloves garlic, minced
1/2 teaspoon red pepper flakes
1/4 cup avocado oil (or olive if you prefer)
Process tomatoes, basil, garlic, red pepper flakes and red wine vinegar with a pinch of salt until smooth.
Drizzle with avocado oil and gently fold in.
VEGGIES
1 cucumber, halved, seeded, and chopped
1 red pepper, halved, seeded, and chopped
1 yellow pepper, halved, seeded, and chopped
1 small red onion, small diced
3/4 pound grape tomatoes, halved
ASSEMBLY
In a large mixing bowl gently toss veggies together.
Drizzle with sauce mixture and fold again.
Cover and let marinade for 15-30 minutes.
1/2 cup crumbled feta cheese
1 cup (or more) pitted black olives, sliced
3 green onions sliced thin
FRESH minced parsley for garnish
JUST before serving fold in olives, cheese and green onions.
Season to taste.
Garnish with parsley.