The beauty of this recipe is that it's GREAT for a group or a cool fall evening's dinner for 2. You can serve it on the biscuits as small sandwiches or you can roughly chop the chicken and serve it over the biscuits like a stew (my favorite way).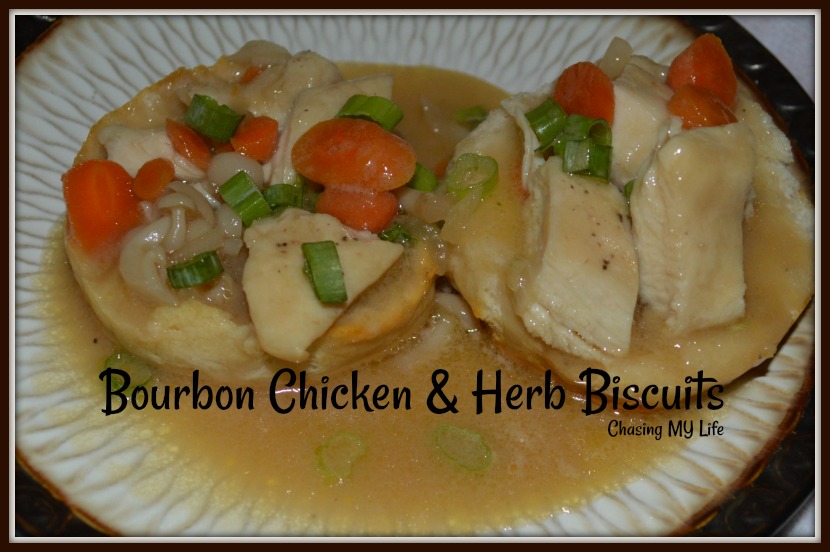 BOURBON CHICKEN & SEASONED BISCUITS
CHICKEN
2 tablespoons avocado oil
1 bulb onion, halved and sliced thin (save some greens for garnish)
1 1/2 cups baby carrots, sliced diagonally
4 boneless, skinless chicken breasts
1/2 – 1 container (8-16 ounce) beech or Cremini mushrooms, cleaned and trimmed (chopped smaller if using Cremini)
1 cup QUALITY bourbon (I often use Seagrams and it is still quite yummy)
1 cup PURE maple syrup
1 cup heavy cream**
2 sprigs FRESH thyme
FRESH ground sea salt and black pepper
Whisk together the bourbon and maple syrup in a saucepan and gently simmer 10 minutes.
In a large saute' pan, heat the oil over medium-high heat.
Add carrots and onions, cooking 2 minutes.
Add the chicken pieces, searing about 2 minutes per side or 3-4 minutes if using pieces.
Add maple syrup mixture to the chicken pan.
Reduce heat slightly, add mushrooms and bring to a SLOW simmer and cook for 10 minutes.
Add the cream, thyme, salt and pepper, cooking for another 5 minutes.
Serve warm over biscuits.
Garnish with greens.
**NOTE: A great substitute for heavy cream is 2/3 cup warmed WHOLE milk and 1/3 cup melted butter.
BISCUITS
3 cups all-purpose flour, plus more for dusting
2 tablespoons baking powder
1 teaspoon thyme
1 teaspoon marjoram
1 teaspoon oregano
1 1/2 teaspoons salt
1 tablespoon sugar
6 tablespoons COLD butter, cut into cubes
1 1/2 cups cold WHOLE milk
2 tablespoons avocado oil
Preheat the oven to 400°.
Combine the spices in a small bowl until well mixed. Reserve 1 teaspoon of the combined spices.
Combine the flour, baking powder, the seasonings, the sugar and salt in a medium bowl using a whisk.
Using a bowl scraper or your fingers, mix in the butter until the mixture resembles coarse meal; using your fingers will create a more cake-like texture.
Make a well in the center and pour in the milk.
Stir JUST until combined.
Turn the dough out onto a floured surface and knead 5 or 6 times.
Roll the dough into a 1-inch-thick disc and cut out biscuits using a 3-inch biscuit cutter. Make sure you don't twist the cutter otherwise you'll squish the sides and the biscuit won't rise. Knead the scraps together, re-roll and cut out biscuits until all the dough has been used.
Place the biscuits bottom-side up on a baking sheet lined with parchment paper.
Whisk together the avocado oil with the reserved spices. Brush the herb butter on each biscuit.
Bake until golden brown, 18 to 20 minutes.