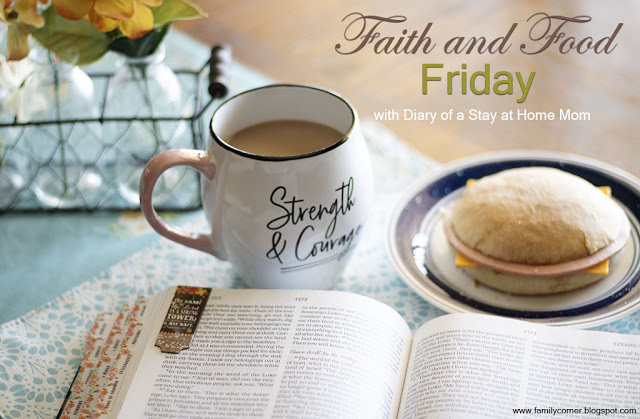 I'm still featuring my Mary & Martha GRACE meal prayer box on Faith and Food Friday, hosted by Sandra at Diary of a Stay at Home Mom.

THIS WEEK'S PRAYER: Lord make us truly thankful for these and all other blessings. I ask this in Jesus Christ's name. Amen.

JET TILA inspired Fried Rice
3 tablespoons avocado oil
1 tablespoon butter
1/2 cup chopped carrots
1/2 cup small radish matchsticks
1 cup frozen peas, thawed
3 LARGE eggs, lightly beaten
4 cups day-old long-grain or jasmine rice
1 tablespoon Bragg's liquid aminos
1 1/2 teaspoons sugar
1/2 teaspoon powdered chicken bouillon
3 LARGE green onions, FINELY chopped
1/2 teaspoons white pepper, optional
In a large skillet, heat the oil until a wisp of white smoke appears.

Add carrots, radishes and green onions. Saute 2-3 minutes. Using a slotted spoon remove veggies from pan and drain on paper toweling.
Add and melt 1 tablespoon of butter to pan until a wisp of white smoke appears.

Pour in the eggs and add the rice immediately. Using a wide silicone spatula, work the rice into the egg in circular motions, making sure not to break the grains. After about 30 seconds, the egg will start to coagulate and surround the rice, the rice will start to dry. Keep scraping the pan and folding the rice back into the middle.

Add the soy sauce, sugar and chicken bouillon. Continue to fold for about a minute. Don't be afraid to scrape up the rice stuck to the bottom of the pan. Cook until the rice absorbs the liquid and egg but is STILL fluffy.
Fold in the carrots, radishes, peas and green onions.


Season to taste with white pepper and cook for an additional minute.

Serve immediately.
NOTE:
Make this pork or chicken by adding your favorite pieces