Like most men, my husband LOVES chili dogs. But, we don't eat much bread these days. So, when I saw Sandra's recipe for Chili Dog Casserole it was right up our alley! The only thing I did different was make a batch of 49er Chili! 49er chili is an OLD scrap of a recipe I found on one of our recipe box searches in antique stores. This casserole really is like having your chili dog and fries, all in one spot and gets rave reviews from everyone. It's perfect for picnics, BBQs, church potlucks or backyard get togethers.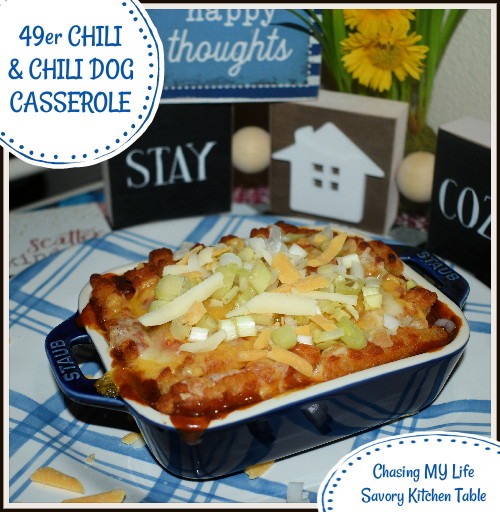 CHILI DOG CASSEROLE
6 hot dogs your favorite brand, sliced into small pieces
15 ounce can chili or 1 1/2 cups homemade
14.5 ounce can diced tomatoes, drained WELL (I used spicy seasoned)
1 cup shredded or very thinly sliced, carrots (optional – hubby didn't care for them)
12 ounces crinkle cut French fries, frozen
1 cup shredded cheddar cheese
Preheat oven to 450°.

Spray a 9 x 13" baking dish with cooking spray and set aside.

In a medium sized skillet, saute the sliced hot dogs until nice and fragrant and seriously browned. We like them really charred 😀


In a medium bowl, add the hot dogs, chili, tomatoes, and carrots.

Stir until evenly combined.

Pour this mixture into the prepared baking dish.

Evenly arrange French fries in a single layer on top of the hot dog mixture.

Bake for 30 minutes.

Evenly sprinkle the cheese on top of the fries, and bake an additional 3-5 minutes, or until the cheese is melted.
Chile is one of the oldest dishes around and dates back to the Aztecs in Mexico. I assume this one received its name after an old gold miner's recipe. I have revamped it a little as time went by, but we love it.
49er CHILI
2 pounds SMALL lean beef pieces or ground beef
1 clove garlic, FINELY minced
1 medium white or yellow onion, FINELY chopped
2 teaspoons chile powder
FRESH ground black pepper, to taste
2 cups tomato sauce/puree
3/4 cup room temperature beer
1/4 teaspoon red pepper flakes
1/2 teaspoon paprika
1/2 teaspoon ground cumin
1 tablespoon sugar
Combine the beef, onions and garlic in a large dutch oven and brown SLOWLY.

Drain off any excess grease.

Return meat mixture to pan and add remaining ingredients and simmer for 30 minutes.
1 LARGE can chili beans (optional)
Stir in beans if using and and simmer 15 minutes more.
2 tablespoons corn flour
1/4 cup water
Whisk corn flour and water together.

Stir corn flour mixture into chile.

Simmer 20-30 minutes more.
Shredded cheese
Chopped onions
Sour cream
Serve HOT with topping of choice.