SAVORY RUSTIC COUNTRY HAM & CHEESE QUICHE
CRUST
1 3/4 cups all purpose flour
1 teaspoon sea salt
COLD 1 stick unsalted butter, cubed
1 egg yolk
1 teaspoon FRESH chopped thyme leaves
+/- 1/2 cup chilled water
2+ ounces chilled Vodka (see notes)
In a large bowl whisk together the flour and salt.

Add the COLD butter cubes and using your fingers (my preference) or a pastry cutter work the butter and flour together until you have pea sized pieces.

Add the egg yolk and thyme leaves, mixing until combined.

Add the water and vodka JUST enough to mix until the dough comes together. If it's too crumbly add more vodka or cold water 1 teaspoon at a time until dough comes together smoothly.

Work dough into an 8 inch disc.

Wrap dough in plastic wrap and chill 30 minutes.
QUICHE
1-2 tablespoons Frank's original hot sauce
1 1/2 tablespoons butter
1 bunch green onions, minced
1/2 cup small diced red/orange peppers
FRESH ground sea salt and black pepper
2 LARGE eggs
1 cup half & half
1/2 teaspoon FRESH grated nutmeg
1 cup grated Fontina cheese
1/2 cup grated SHARP white cheddar cheese
1 1/2 cups chopped country ham
Roll out dough to an 11 inch round.

Carefully arrange crust in 9 inch pie dish.

Brush the bottom of the crust with Frank's original hot sauce.

Chill crust while preparing the filling.

Preheat oven to 375°.

Place a raised wire rack on your baking sheet.

Add butter to skillet over medium high heat.

When butter is melted add green onions and peppers, season with FRESH ground sea salt and pepper, stirring to saute' 2-3 minutes until softened and golden.

Remove from heat and set aside to cool.

In a mixing bowl whisk together the eggs, half and half, salt, pepper and nutmeg.

Place the prepared crust on the wire rack on the baking sheet.

Toss together the ham, onions and peppers.

Arrange half of the ham mixture evenly in the crust.

Sprinkle with half of the cheeses.

Arrange remaining ham mixture over cheese layer.

Top with remaining cheese.

Whisk the egg mixture one last time and evenly pour over into the crust.

Bake 30 minutes and then turn tray.

Bake another 20 minutes, until egg mixture is completely set and crust is golden brown.

Cool at least 10-15 minutes before serving.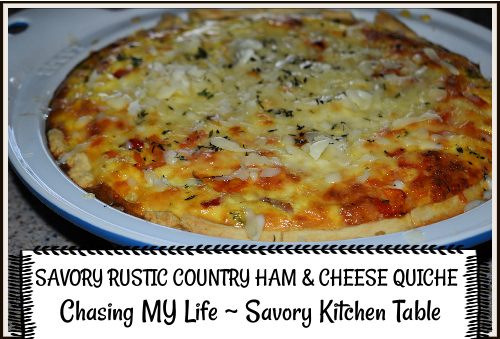 NOTES:
We were out of vodka so I substituted REAL SPICE MOONSHINE and it worked REALLY well! The idea of using the alcohol versus using all water is that the alcohol evaporates during baking leaving you with a flakier, lighter crust.

The old recipe I used had you brushing the crust with Dijon mustard, but I only do this if I won't be eating it due to my being deathly allergic to it, so I brushed the crust with Frank's original Hot sauce instead and we like it even better!