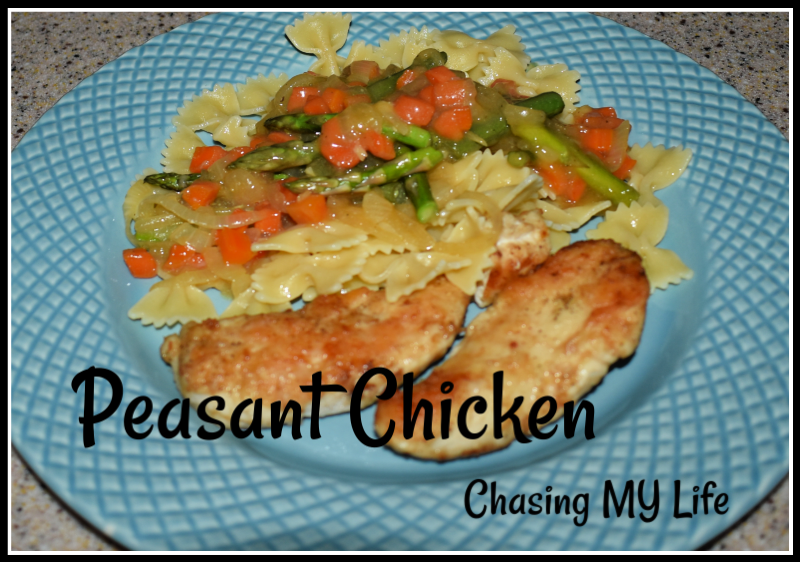 PEASANT CHICKEN – serves 4
1 1/2 pounds chicken tenders
1/4 cup WONDRA flour
FRESH ground sea salt and black pepper, to taste
3 carrots, peeled and diced
1/2 pound green beans, trimmed and cut
2 shallots, sliced thin
2-3 cloves garlic, minced
1 tablespoon avocado oil
1 tablespoon butter
1 cup chicken broth
Juice of 1 lemon
rice or pasta, prepared per package directions using chicken broth as your water ingredient for more flavor
Heat oil and butter in large saute skillet over a medium-high heat.
Generously season chicken pieces with FRESH ground sea salt and black pepper.
Dredge chicken pieces in flour.
Add chicken pieces to skillet browning 2-3 minutes per side. Remove chicken to platter and tent to keep warm.
Add carrots to pan and saute' 5 minutes until beginning to soften.
Add green beans and saute' 2-4 minutes more.
Add shallots and saute' 2 minutes more.
Add garlic and saute' 2 minutes more.
Stir in broth and lemon juice.
Add chicken back into skillet, simmering 5 minutes until chicken is cooked through and sauce is beginning to thicken.
Serve over rice or pasta.