Take Out Style Enchiladas are a power packed recipe full of flavor with a velvety chili sauce that is very fragrant, but NOT overly spicy. Adapted from Jennifer Aaronson @ MARLEY SPOON

BEEF & BEAN ENCHILADAS ~ TAKE OUT STYLE

8 (6-inch) corn tortillas
2/3 pound lean ground beef, browned to crumbly and drained of grease
1 can shoepeg niblet corn, drained
2 cups (8 ounces) shredded cheddar-jack blend
2 ounces pickled jalapeños, FINELY chopped
1 can black beans, drained and rinsed
2-3 green onions, sliced and diced (greens and whites separated)
1 tablespoon beef broth concentrate
4 tablespoons tomato paste
1 1/4 cup chicken broth
1 1/2 tablespoons taco seasoning
1 tablespoon WONDRA flour
FRESH ground sea salt and black pepper
1 tablespoon avocado oil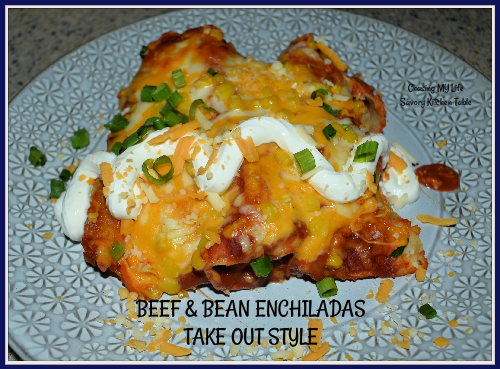 Preheat oven to 425° with a rack in the center.

Heat 1 tablespoon oil in a medium saucepan over medium.

Add taco seasoning, tomato paste and 1 tablespoon flour; cook, whisking, 1 minute.

Whisk together broth and beef broth concentrate.

Add to saucepan, stirring to blend. Bring to a simmer, cooking 8-10 minutes until slightly thickened.

Season to taste with FRESH ground sea salt and black pepper. 
 Remove from heat and set aside.


In a large bowl, combine ground beef, beans, scallion whites, chopped jalapeños, half of the corn, 1/3 cup of the sauce

and ⅔ of the cheese; stir to com-3bine.

Season to taste with FRESH ground sea salt and black pepper.


Brush tortillas on both sides with oil, then place on a rimmed baking sheet.

Bake tortillas on center oven rack until just warmed and softened, about 2-3 minutes (watch closely). Wrap in foil or a clean kitchen towel to prevent from drying out, keep covered until ready to use.


Lightly oil the inside of a medium baking dish.

Pour in ¼ cup sauce, spreading to coat the bottom.

Arrange tortillas on a work surface.

Divide filling (about ⅓ cup each) evenly among tortillas; roll up tightly and arrange in prepared baking dish, seam side down.

Top with remaining sauce.


Sprinkle enchiladas with remaining cheese.

Bake on center oven rack until cheese is browned and bubbling, 20 minutes.

Garnish with remaining scallions sprinkled over top, and with remaining jalapeños on the side.