So, I admit it, the Kid's Baking Championship inspired me on this one! If they can do it, I can do it I figured and this time it worked!

CHOCOLATE CHINESE FIVE SPICE CAKE
CAKE
1 cup AP flour
1/2 teaspoon baking powder
1/2 teaspoon baking soda
1/4 teaspoon sea salt
2 teaspoon Chinese 5 Spice Blend
1 teaspoon QUALITY cinnamon
2/3 cup finely chopped or grated bittersweet chocolate
1/4 cup brewed coffee or espresso, Chai tea, or apple cider vinegar
1/2 cup buttermilk
1 teaspoon PURE vanilla extract
1 large egg
1 cup sugar
Preheat oven to 350°.

Whisk the flour, baking powder, salt, Chinese Five Spice Powder and baking soda in a bowl.

In a small bowl, mix the coffee (or chai tea/apple cider vinegar) and diced chocolate.

Stir vigorously until the chocolate has fully melted – don't leave any lumps of chocolate.

Add vanilla extract and buttermilk to mixture, and blend well.

Set mixture aside.

In a large bowl, beat the egg and sugar in a bowl until light and airy, about 3 minutes.

Add the chocolate mixture and mix well with a large spoon.

Add the flour mixture and stir until fully mixed with no lumps.

Pour mixture into two well prepared cake pans.

Bake for 30 minutes or until a skewer inserted into the center comes out clean.

Remove cake pans from oven and let cool fully to room temperature.

Remove from cake pans.

When pans are cool to the touch, remove from pans and let sit on cooling rack at least another hour to cool, otherwise chocolate ganache will melt if cake is still warm.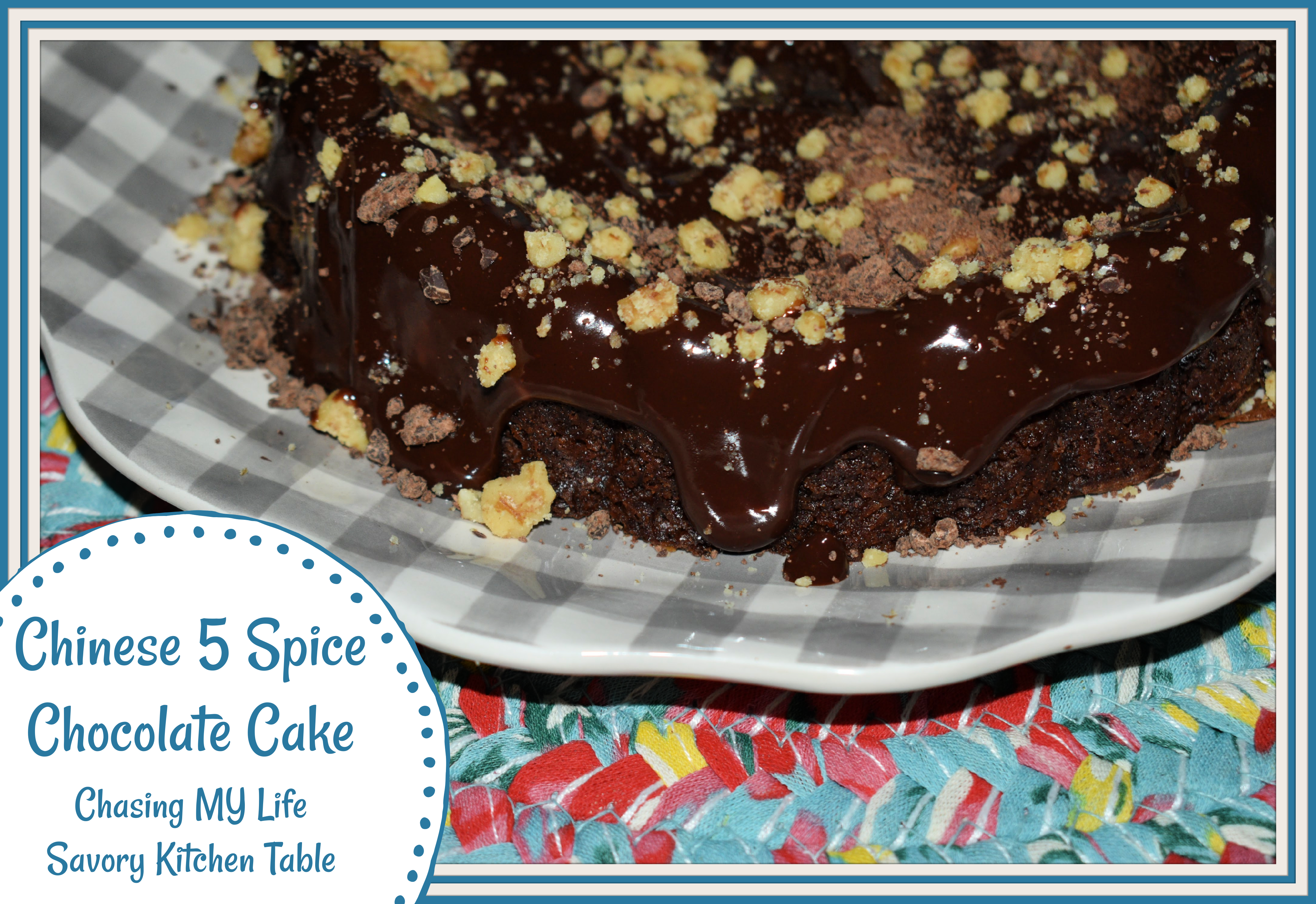 GANACHE
1 cup heavy cream
12 oz semi-sweet chocolate chips
1/2 teaspoon Chinese 5 spice powder
Place chocolate chips in a heat proof bowl.

Sprinkle with Chinese 5 spice powder.
Heat heavy cream to JUST before boiling.

Pour over chocolate chips and spice and let sit for 4-5 minutes – do not stir.

Whisk the mixture until it thickens and becomes a rich, dark chocolate brown.

Pour a small amount of ganache over top of one layer of cake and top with other layer. Set aside to cool.

Let remaining ganache cool to room temperature, so it is thick, but still spreadable.

Generously coat cake in ganache, running a flat spatula along the sides and top to make a smooth cake.

Top with chocolate sprinkles, cinnamon Sticks, and a very light dusting or five spice powder or cinnamon sugar, or crushed walnuts.

Chill for 2 hours, up to two days before serving.

Cut into slices and serve.