This recipe is for recipe experiment night. I was looking for a tasty alternative that I could also use as leftovers for my lunches. I am happy to report that it was a success!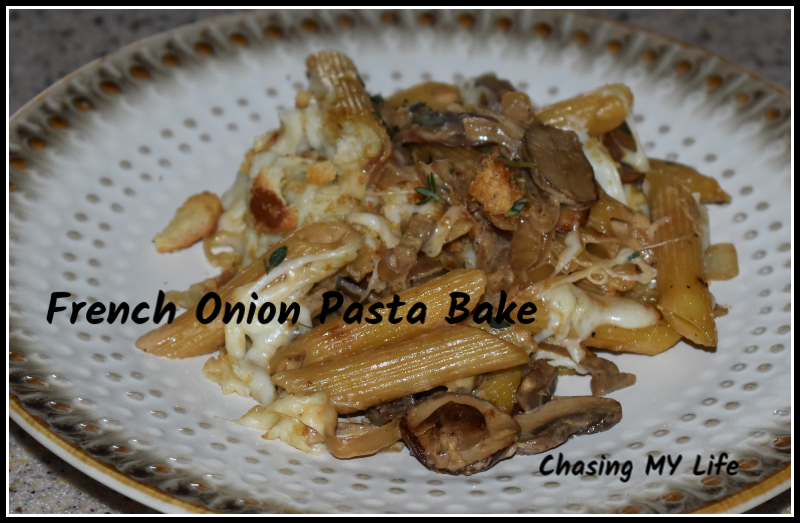 FRENCH ONION PASTA BAKE
6 ounces penne pasta
1 tablespoon butter
1 tablespoon avocado oil
8 ounces button mushrooms, 1/4 inch slices
1 large shallot, halved and sliced
2 cloves garlic, minced
2 tablespoons Better than Chicken bouillon
4 ounces heavy cream
2 tablespoons Marsala Wine
3-4 FRESH thyme sprigs
3/4 cup seasoned croutons, crushed
4 ounces shredded Mozzarella
Preheat oven to 400°.
Spray baking dish with non-stick cooking spray.
Prepare pasta al dente.
Drain pasta

WELL

and set aside.
In a large skillet melt butter and avocado oil.
Add mushrooms, onions and garlic. Season with

FRESH

ground salt and pepper, stirring and cooking 10-12 minutes until caramelized and deep brown.
Whisk together the Marsala wine, cream, two-thirds of the thyme, and the bouillon base. Add to the mushroom mixture stirring and blending together until heated through.
Fold in the pasta and then half the cheese.
Spread into prepared baking dish.
Top with remaining cheese and crushed croutons.
Bake 10-15 minutes until cheese is melted and golden.
Top with remaining thyme.
NOTE: Penne pasta works best, but any other similar sized pasta would work well too.