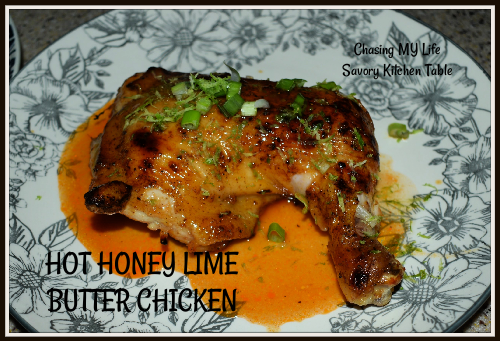 Hidden in a stack of my magazine tear outs, I found this delectable recipe for a chicken recipe that is as sweet as it is spicy and is an eye catching appetizing dish. I made just a very few changes to appeal to my liking.
HOT HONEY LIME BUTTER CHICKEN
4 chicken leg quarters
1/4 cup honey
1/4 cup Frank's Original hot sauce
2 + 2 + 2 tablespoons butter
2-3 cloves garlic, minced
FRESH ground sea salt and black pepper
1 teaspoon cumin
1 tablespoon avocado oil
Zest and Juice of 2 limes, separated (see notes)
2 green onions, sliced thin
Preheat oven 425°.

Stir together cumin, salt and pepper to make a dry rub.

Pat chicken pieces dry.

Rub chicken all over with the dry rub.

Melt 2 tablespoons butter and avocado oil together in a large skillet over medium-high heat.

Add chicken, skin side down and sear 4-5 minutes per side until golden on both sides.

Transfer chicken to baking sheet or baking dish, skin side up.

Wipe skillet clean.

Add 2 tablespoons of butter.

When melted add honey, hot sauce and garlic, cooking a few minutes until well blended.

Pour honey mixture evenly over chicken.

Place baking dish in pre-heated oven for 20 minutes, or until chicken pieces register 175°.

Turn off oven and let chicken rest 5 minutes

Transfer chicken to platter and keep warm.

Add 2 tablespoons of butter to skillet to melt.

Whisk lime juice into drippings and transfer back to skillet with butter, cooking until slightly thickened.

Spoon sauce over chicken and garnish with scallions and lime zest.
NOTES: Oranges or lemons work just as well as limes and have a subtle change in the flavor profile.