I originally found this old recipe in some things of my grandmother. It is from an old cookbook she evidently bought at Knott's Berry Farm. I've modernized it to our tastes, but I love that they are on skewers, making it a great party recipe. They are also great on the grill – I use fire wires when I grill them to make it easier to turn them regularly.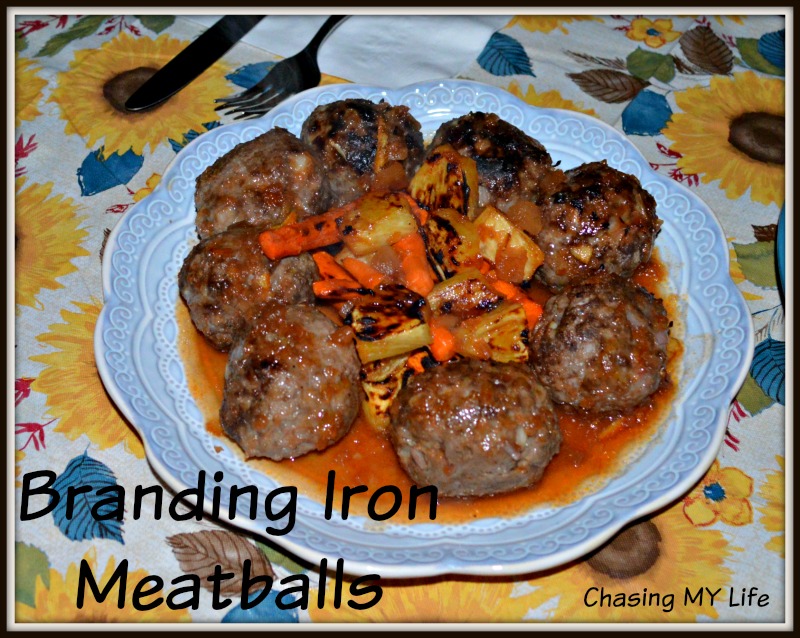 BRANDING IRON MEATBALLS
MEATBALLS
2 pounds ground sirloin
2 eggs,, beaten
1 LARGE shallot, grated
2 cloves garlic, minced
1/3 cup Panko crumbs**
Fresh ground salt and pepper, to taste
Stainless steel Skewers
pineapple chunks, cherry tomatoes or green and red pepper chunks
Soak skewers in water for an hour before using if using wooden skewers.
In a large mixing bowl combine ground sirloin, eggs, shallot, garlic, Panko crumbs, salt and pepper until well blended.
Roll meat mixture into golf ball sized balls.
Arrange meatballs on on skewers alternating with veggie pieces, pineapple chunks or tomatoes.
Arrange skewers in a single layer on a jelly roll pan covered in foil.
Pour cooled sauce over skewers.
Marinade skewers for an hour or so, turning to coat every 15 minutes.
Broil for 5 minutes.
Turn skewers and broil 5 minutes more.
NOTE:** You may need to add more to achieve the desired consistency for the meatball to hold together well.
SAUCE
1 shallot, finely chopped
2 tablespoons avocado oil
2 tablespoons tomato paste
2/3 cup chicken broth
3/4 cup apple cider vinegar
3/4 cup apricot pineapple jam**
1 teaspoon sea salt
1 teaspoon Worcestershire sauce
1 tablesspoon Frank's hot sauce
Heat oil in saucepan over medium-high heat.
Add shallot and saute' until soft.
Add remaining ingredients and bring to a boil.
Reduce heat and simmer 15-20 minutes until thickens.
Cool.
NOTE:** Recipe called for Knott's Orange Honey, but I haven't been able to find it so substituted the jam.