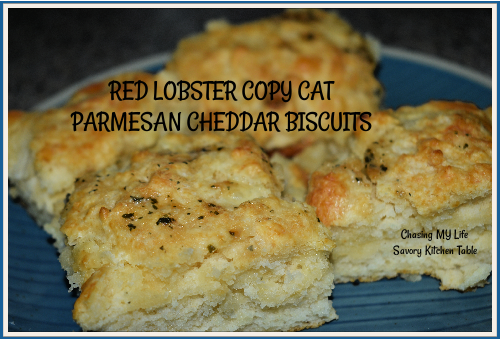 PARMESAN CHEDDAR BISCUITS ~ RED LOBSTER COPY CAT
2 cups biscuit baking mix
1 1/4 cups finely shredded Parmesan cheese
1/4 cup finely shredded Cheddar cheese
2/3 cup milk
1 clove finely minced garlic
1/2 teaspoon garlic powder
2 tablespoons margarine, melted
2 teaspoons dried parsley
1 teaspoon garlic salt
2 tablespoons butter
Preheat oven to 400°.
Lightly grease a cookie sheet or baking pan.
In a large bowl, combine baking mix, 1 1/4 cups of the cheese, minced garlic and garlic powder.
Stir in milk.
Drop batter by heaping tablespoonfuls onto prepared cookie sheet or form into baking dish.
Bake in preheated oven for 10 minutes.
Brush biscuits with melted butter, and sprinkle with parsley, garlic salt and cheddar cheese.
Bake for 5 more minutes, or until lightly browned on the bottom.