I found this recipe on FACEBOOK awhile back, but can't remember who from. I've adapted it slightly. This crispy chip crusted chicken is loaded with a creamy, spicy and cheesy stuffing that's juicy AND crunchy.
ACTIVE PREP TIME: 15 minutes
COOK TIME: 30 minutes
TOTAL START TO FINISH TIME: 45 minutes
SERVES: 4
WHY I'LL MAKE IT AGAIN: I'll make this recipe time and again because it was FULL of flavor, crunchy and juicy. Not to mention, everybody raved about it.
NOTES: Original recipe called for using Kettle cooked salt & pepper chips with a whole chopped seeded Jalapeno in the cheese mixture. Hubby and I tried the salt and pepper chips and HATED them so I had to rethink the recipe.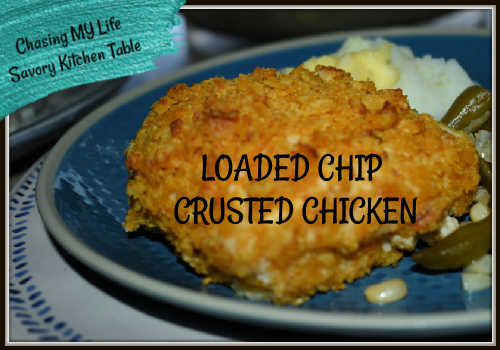 LOADED CHIP CRUSTED CHICKEN with BACON and CHEESE serves 4
4 boneless skinless chicken breasts
1 8 ounce bag Kettle Cooked Jalapeno flavored Potato Chips
3 eggs, lightly beaten
STUFFING
8 oz cream cheese, softened
2/3 cup medium Jack or cheddar cheese
1/2 cup crumbled bacon
1 tablespoon BBQ sweet rub (recipe below)
Preheat oven to 375°.
Line a baking sheet with foil and spray with non-stick spray.
Use a sharp knife to slice each chicken breast almost all the way in half.
Open the slice and press each breast flat.
In a small bowl, combine the cream cheese, cheddar cheese, jalapeno, bacon, and sweet rub.
Spread 1/4 of the mixture onto each of the butterflied chicken breasts.
Fold the breasts over and press to smear the cream cheese mixture so it is evenly distributed within the chicken.
Using food processor pulse chips until they are broken down into crumbs.
Pour the crumbs out onto a shallow plate.
Add eggs to a shallow dish.
Dip the stuffed chicken breasts into the eggs, then into the chip crumbs, coating each side.
Once all of the chicken breasts are coated with the eggs and Kettle Chips, place them on your grill or onto a baking sheet and into the oven.
Cook for about 25 minutes, or until the internal temperature of the chicken reads 165°.
Serve immediately and enjoy!
SWEET RUB
¼ cup dark brown sugar
1 teaspoon FRESH ground sea salt
2 teaspoons FRESH ground black pepper
2 teaspoons sweet smoked paprika
2 teaspoons garlic powder
2 teaspoons onion powder
½ teaspoon cayenne pepper
Combine all of the ingredients for the rub in a small bowl.
Stir well to combine, using a fork to break up any clumps.
Store BBQ sweet rub in an airtight container. It will last 3-4 weeks.