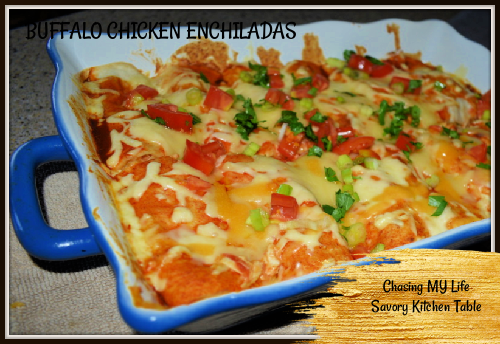 BUFFALO CHICKEN ENCHILADAS
2 cups shredded or pulled chicken pieces
2 cups shredded cheddar cheese, divided
1 can ROTEL original tomatoes and green chiles, drained WELL
1 can green enchilada sauce, divided
1/2 cup Taco Bell MILD taco sauce
1 cup Frank's ORIGINAL hot sauce
8 ounces cream cheese, softened
(8) 8 inch flour tortillas
Preheat oven to 350°.
Spray baking dish with non-stick cooking spray.
In a large bowl combine cream cheese, half of cheddar cheese, 1/2 of the green enchilada sauce and Frank's hot sauce until creamy.
Fold in chicken pieces and green onions, reserving a few green onions for garnish.
Fill tortillas and place seam side down tightly in a prepared baking dish.
Combine taco sauce and remaining green enchilada sauce in a small bowl.
Brush sauce over top of enchiladas evenly so that all tortillas are moist.
Sprinkle remaining cheese over sauce.
Bake 25-30 minutes until cheese is melted and enchiladas are cooked through.
Serve immediately with green onions, fresh diced tomatoes and sour cream as garnish.