Strozzapreti AKA priest-choker or priest-strangler are an elongated form of cavatelli, a hand-rolled pasta typical of the Tuscany region of Italy.

The name has many theories as to the name. One of the theories is because of gluttonous priests were so enthralled by the savory pasta that they ate too quickly and choked themselves. Another explanation involves the "azdora" OR A "housewife" who "chokes" the dough strips to make the strozzapreti. It is presumed that the housewife would express such a rage possibly triggered by the misery and difficulty of her life that would fill her with enough rage to be able to strangle a priest!" And yet another legend suggests that wives would customarily make pasta for priests as partial payment for land rents (the Catholic church rented to many farmers) and their husbands would be angered enough by the priests eating their wives' food to wish that the priests would choke as they stuffed their mouths with it. And yet another possible explanation is that the pasta resembles a clerical collar which is commonly referred to as a "Priest Choker".

The more commonly accepted theory is that following Sunday mass, a priest would visit homes of the villagers and enjoy dinner with them. The more pleasant the experience for the priest the more often they would come back to that particular home. As a means for the family to let the priest know that he might have worn out his welcome, they would serve this pasta which later earned the name "Strozzapreti."

The dough is first rolled out in thick flat sheets. It is then cut into strips. The strips are lightly rolled or twisted between the palms. The large pasta is separated into 3-4 inch pieces by pinching it. Unlike spaghetti or macaroni, this pasta is not uniform in size or shape.
Different regions makes this pasta slightly different. In Romagna it is made with wheat flour, water, salt and sometimes eggs. Where as in Emilia it is made from flour, water, Parmesan cheese and egg whites which are all beaten together. In Pici it is more similar to the Tuscan style which is hand rolled, solid fat tubes of dough that are cut, but not twisted giving it the appearance of a taut rope. In Corsica it is a large gnocchi made of cheese and vegetables and then baked.

Unless you make your own pasta regularly this is a difficult pasta to find in your average grocery store. I usually substitute the Barilla Campagnelle pasta which is a thinner cone shaped pasta with a ruffled edge and is often known as "little bells".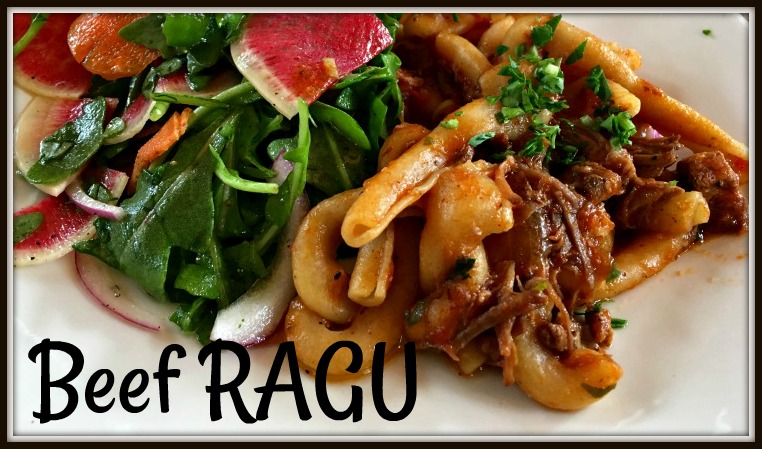 BEEF RAGU ala SLOW COOKER
1 small yellow onion, finely chopped
5-6 cloves garlic, minced
2 1/2 -3 pound chuck roast
1 tablespoon House Seasoning (see below)
28 ounce crushed tomatoes
1 cup beef broth
3 tablespoons tomato paste
1 large carrot, peeled and grated
2 tablespoons red wine vinegar
3 teaspoons Italian seasoning
Prepared pasta
Parmesan cheese, grated

Spray a large slow cooker with non-stick cooking spray.
Arrange the onions and garlic in the bottom of the slow cooker.
Sprinkle the roast with the house seasoning on both sides.
Arrange roast on top of the onions and garlic.
Sprinkle the carrots on top of the roast.
In a medium bowl, blend together the tomatoes, tomato paste, beef broth, red wine vinegar and Italian seasonings.
Pour over the roast.
Cover and cook on low 8-10 hours until the beef is EXTREMELY tender and falls apart.
Skim any fat from the top.
Use 2 forks to shred the beef.
Stir beef into the tomato sauce.
Adjust seasonings.
Re-cover and cook for another hour to allow the flavored to meld together.
Serve over prepared pasta and top with Parmesan cheese.
HOUSE SEASONING MIX
1/4 cup fine sea salt
1/4 cup garlic powder
2 tablespoons onion powder
1 tablespoon FRESH ground black pepper
Combine in a small bowl until well blended.
Store in an air tight container.