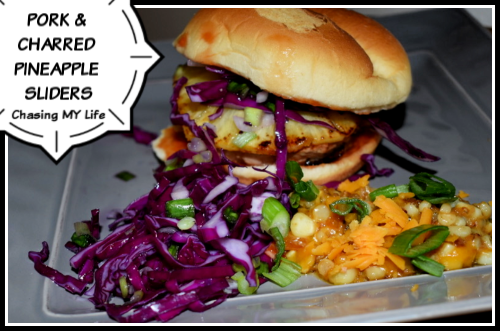 PORK & CHARRED PINEAPPLE SLIDERS
1/4 cup jalapeño ketchup
2 tablespoons brown sugar
3 (1+2) tablespoons pineapple juice
2 (1+2) tablespoons apple cider vinegar
8 ounces ground pork
1
LARGE
bunch green onions, sliced and divided
FRESH
ground sea salt and black pepper, to taste
8 slices pineapple, 1/4 inch thick
1 cup shredded red cabbage
8 KING'S Hawaiian small hamburger rolls or (12) buns, split
Whisk together the ketchup, brown sugar, 1 tablespoon pineapple juice and 1 tablespoon apple cider vinegar. Set aside.
Combine cabbage, 2 tablespoons pineapple juice, 2 tablespoons apple cider vinegar, 1/2 of the green onions, salt and pepper to taste and toss well.
Combine pork, remaining green onions, salt and pepper together. Form 8 patties or 12 squares if using rolls.
Spray heavy skillet with non-stick cooking spray.
Heat skillet over medium high heat.
Add pork patties and cook 2-3 minutes until slight charred.
Flip and cook another minute.
Transfer patties to plate and keep warm.
Add pineapple slices to skillet and cook 2 minutes until slightly charred.
Top pork patties with pineapple slices.
Generously brush buns with ketchup mixture.
Add a pork patty to each bun bottom.
Top with cabbage mixture and roll top.