This recipe is one that is so versatile that it can feel like you are eating separate dishes on the same night. Hubby doesn't do cooked mushrooms. I don't do capers or olives. So, I make the red part of the sauce and then split it in half and prepare each half with the items we like individually. 😀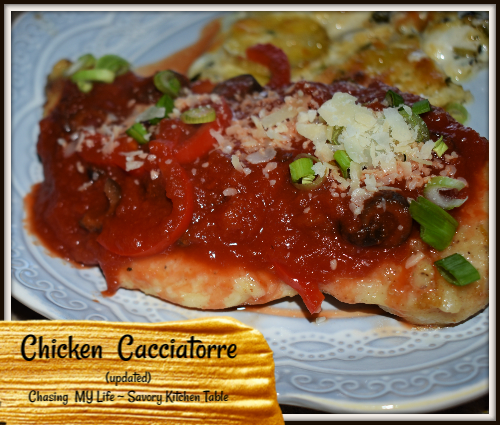 UPDATED CHICKEN CACCIATORE
6
BONELESS, SKINLESS
chicken chicken steaks
FRESH
ground sea salt and black pepper
1/3 cup WONDRA all-purpose flour
1 tablespoon avocado oil
1 tablespoon butter
1 small onion, finely chopped
1/2 pound sliced cremini mushrooms (optional)
4 cloves garlic, minced
1 red bell pepper,
THINLY
sliced
1/2 cup dry white wine
1 teaspoon
FRESH
and
FINELY
chopped oregano
1 teaspoon
FRESH
and
FINELY
chopped rosemary or thyme
One 28-ounce
CRUSHED
whole tomatoes
1/3 cup chopped black olives
2 tablespoons drained capers, chopped
1/4 cup torn
FRESH
basil leaves
Sprinkle the chicken thighs with salt and pepper, then toss them in a bowl with the flour to lightly coat.
Heat the oil and butter in a large, wide pot over medium-high heat until shimmering.
Add the chicken and cook, turning once, until golden brown on both sides, about 2-3 minutes per side. Remove the chicken to a plate.
Add the onion and mushrooms to the pot and cook, stirring, until the onion is softened and the mushrooms are lightly golden, about 5 minutes.
Add the garlic and peppers, stirring, until the peppers are just starting to soften, about 1 minute.
Add the wine and bring to a boil, then cook, scraping up any brown bits, until reduced by about half.
Add the oregano and rosemary or thyme.
Add the tomatoes and their juice and bring to a simmer.
Add the olives and capers.
Return the chicken to the pot, nestling in the sauce.
Reduce the heat to keep the sauce at a gentle simmer and cook until the chicken is cooked through, about 5-10 minutes.
Sprinkle with the basil.
Serve immediately.