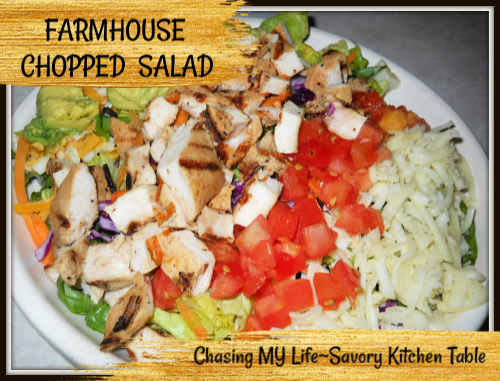 FARMHOUSE CHOPPED SALAD serves 6
12 ounces bacon, chopped
Cook bacon over medium heat until crispy.

Drain on paper toweling.
DRESSING
1 cup mayonnaise
1/2 cup sour cream
1/4 cup buttermilk
1/2 cup FRESH parsley, chopped
2 tablespoons FRESH chives, chopped
2 cloves garlic, minced
FRESH ground sea salt and black pepper
Whisk the mayonnaise, sour cream and buttermilk together until smooth.

Fold in the parsley, chives, garlic, FRESH ground sea salt and black pepper.
1 head romaine lettuce, chopped
1 pint grape tomatoes, halved
1 bunch green onions, THINLY sliced
1 cup carrot matchsticks
2 cups shredded sharp white or yellow cheddar cheese
2-3 cups grilled or rotisserie chicken pieces
(see note)
In a large bowl toss together the lettuce, green onions, carrots, tomatoes, 3/4 of the bacon pieces, chicken pieces and 1 1/2 cups of the cheese.

Add dressing, tossing to coat.

Garnish with remaining cheese and bacon.
NOTE:
I like to make this salad the same day I go to Costco. I pick up a rotisserie chicken from their deli and it's the perfect time to pick the chicken from the bone, make a salad and make FRESH chicken stock from the carcass.
I sometimes add chopped avocado or even radishes.