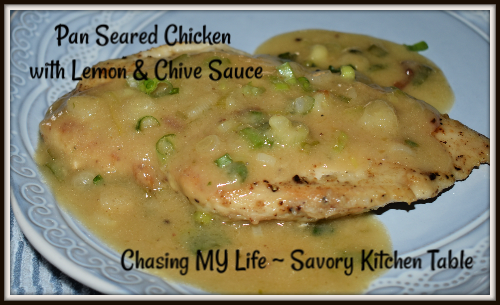 PAN SEARED CHICKEN with LEMON and CHIVE SAUCE
CHICKEN
4 boneless, skinless thin sliced chicken breast steaks
FRESH
ground sea salt and black pepper
1 tablespoon avocado oil
2 tablespoons butter
2 eggs, beaten
1/4 cup +1 tablespoon WONDRA flour
1 tablespoon cornstarch
1 shallot minced
1 tablespoon WONDRA flour
1 cup chicken broth
Juice of 1
LARGE
lemon
1 tablespoon
FRESH
minced chives
1 tablespoon
COLD
unsalted butter
Generously season chicken steaks with FRESH ground sea salt and black pepper.
Heat oil and butter in skillet over medium heat.
Dredge chicken in beaten egg and the 1/4 cup flour, shaking off excess.
Sear chicken breasts in skillet for 2 minutes per side.
Remove chicken steaks to plate and keep warm.
Add shallot and cook over medium heat for about 2 minutes until softened.
Add the 1 tablespoon of flour and cornstarch, stirring to coat shallot 30 seconds or so.
Slowly whisk in broth and bring to a simmer 5-10 minutes until reduced and slightly thickened.
Remove from heat and whisk in lemon juice, chives and butter.
Season to taste.
Serve over chicken.