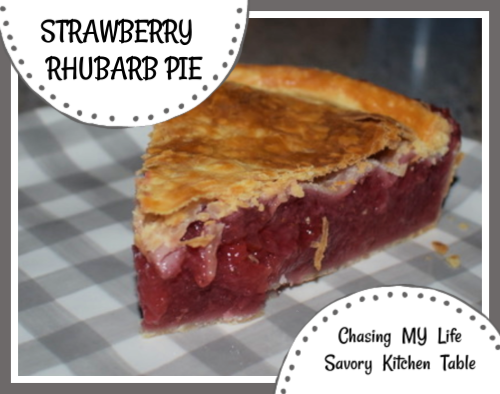 STRAWBERRY RHUBARB PIE
Your favorite pie crust recipe for a double crust
2 1/2 cups chopped
FRESH
red rhubarb
2 1/2 cups de-stemmed, washed and chopped strawberries
1 1/2 cups sugar
2 tablespoons cornstarch
1 tablespoon WONDRA flour
1/2 teaspoon lemon zest
Juice of 1 small lemon
1/2 teaspoon ground
QUALITY
cinnamon
1 teaspoon
PURE
vanilla extract
3 tablespoons butter, cubed small
1 egg white beaten with 1 teaspoon water
Preheat oven to 425°.
In a large mixing bowl combine the rhubarb, strawberries, sugar, cornstarch, flour, lemon zest, lemon juice, cinnamon, and vanilla.
Pour out into chilled crust.
Dot the top of the filling with the butter.
Brush edges of pie crust with egg white wash.
Roll out the other piece of dough and place over filling.
Crimp to seal edges.
Slice several vents into top to allow steam to escape.
Brush with egg white wash and garnish with large granule sugar.
bake for 15 minutes.
Decrease temperature to 375° and bake for an additional 45 to 50 minutes, until the filling starts to bubble.
NOTES:
I often like to cook the filling first if the rhubarb is especially tough, but be sure to allow filling to cool COMPLETELY before filling crust.
Collar with foil for the first 30 minutes to prevent burning.