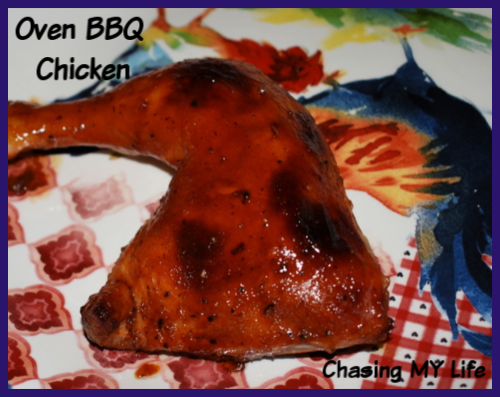 OVEN BBQ CHICKEN
2 pounds chicken thighs and legs
FRESH
ground sea salt and black pepper
SAUCE
1/2 cup ketchup
1/2 cup pineapple juice
1/4 cup apple cider vinegar
4 tablespoons butter, melted
Juice of 1
LARGE
lemon
2 tablespoons molasses
1/3 cup packed brown sugar
2 cloves garlic, finely minced
2 teaspoons chili powder
2 teaspoons sweet paprika
1 teaspoon crushed red pepper
FRESH
ground sea salt and black pepper
Preheat oven to 375°.
Line a large baking sheet with foil for easier clean up.
In a large mixing bowl combine ketchup, pineapple juice, vinegar, butter, lemon juice, molasses, brown sugar, garlic, chili powder, paprika, red pepper, salt and pepper.
Season chicken pieces with FRESH ground sea salt and black pepper.
Dip each piece in sauce and place on baking sheet skin side up.
Bake 45-50 minutes or until temperature reads 170°, basting with reserve sauce every 15 minutes and at the end when you remove it from oven. Tent with foil and allow chicken to rest 10 minutes before serving.
Serve with remaining sauce.