This is one of those scraps of a recipe I had in my file. I do not know who the recipe was from and I sure wish I did – I'd LOVE to thank them! This is one of the crispiest and most flavorful recipes I've ever come across for fried chicken. The breading adhered and held up PERFECTLY!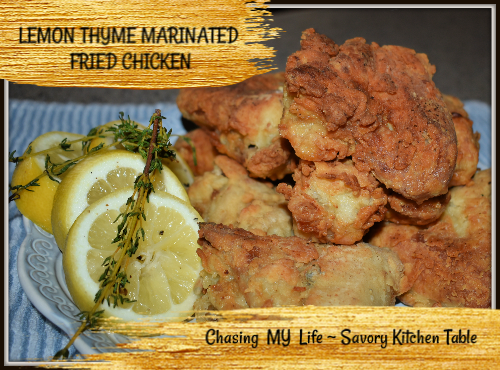 LEMON THYME MARINATED FRIED CHICKEN
MARINADE
4 cups water
1/2 cup kosher salt
1/4 cup sugar
6 lemons
6 cloves garlic, minced
1 tablespoon FRESH ground black pepper
1 bunch FRESH thyme
4 cups ice
4 pounds chicken pieces
Whisk together the water, salt, sugar, lemon halves, garlic, black pepper and thyme in a large stockpot.

Bring to SLOW boil.

Turn off heat and add ice.

Allow to cool.

Add chicken pieces.

Refrigerate AT LEAST 8 hours or overnight.
AFTER

at least

8 HOURS
Drain chicken and pat dry with paper towels.

Preheat oven to 350°.

Lightly spray a rack with non-stick cooking spray and place on baking sheet.
BREADING
3 cups flour
1 teaspoon garlic salt
1 teaspoon onion powder
FRESH ground black pepper
2 cups WHOLE buttermilk
2 LARGE eggs
In a shallow dish whisk together the flour, garlic salt, onion powder and black pepper.

Whisk together the buttermilk and eggs in a second bowl.
Coconut Oil for frying
Heat oil in a deep cast iron pan over medium-high heat.

Dredge chicken pieces in flour mixture shaking off excess.

Then dredge in egg mixture followed by the flour mixture again.

Fry in oil for 3-4 minutes per side until golden and crispy. Grams always told me to put the chicken in the HOT oil and leave it alone until it bleeds then flip it!

Place on prepared rack.

Bake 10-15 minutes until centers are cooked through.