These Portuguese doughnuts were made famous by Leonard's Bakery in Honolulu, O'ahu. They are rolled in granulated sugar and filled with a delectable macadamia nut pastry cream.

AND YOU CANNOT EAT JUST ONE!!

😀 But next time hubby requested a chocolate or Bavarian cream filling.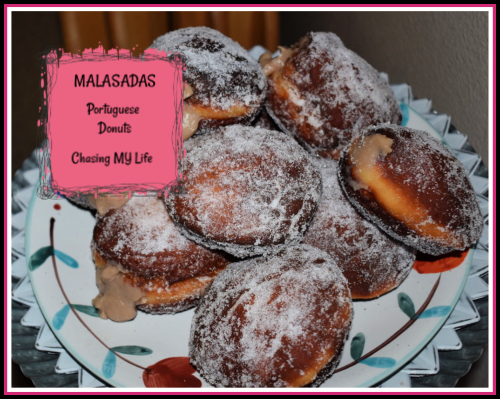 MALASADAS
yields about 2 dozen doughnuts
DOUGH
3/4 cup warmed whole milk
3/4 cup evaporated milk
3 tablespoons
UNSALTED
butter, melted
.50 ounces active dry yeast, (2- .25 ounce packages)
3/4 cup + 1 teaspoon sugar, plus more for dusting
3
LARGE
eggs
4 cups bread flour
3/4 teaspoon kosher salt
Avocado or canola oil
Combine both milks, butter, yeast and 1 teaspoon of the sugar and whisk together in a large bowl.
Let the mixture sit 10 minutes until yeast is activated and foamy.
In the bowl of your stand mixer fitted with a paddle attachment, beat the eggs and the remaining 3/4 cup of sugar together for 2-3 minutes on medium until light and fluffy.
Turn the speed to low and alternately add flour and milk slowly.
Add the salt and change to your dough hook. Gradually turn the speed up to medium high and knead, about 5 minutes until dough is smooth and pulls away from the sides of the bowl.
Turn the dough out onto a lightly floured surface.
Generously grease the work bowl and return the dough to the bowl.
Loosely cover the bowl with cheesecloth, set in a draft free warm corner for 1-2 hours until dough doubles in size.
Lightly grease a large length of parchment paper.
On a lightly floured surface roll out the dough 1/2 inch thick.
Using a 3 inch biscuit cutter, cut out as many doughnuts as you can. Gather and reuse the remaining dough until there isn't enough left. Place rounds 3 inches apart on parchment paper as you go. You will be cutting this paper apart so that each donut is on its own sheet of parchment.
Cover with cheesecloth and set aside to rise for an hour or so until double in size.
Fill a shallow bowl with sugar and set aside.
Fill a wide dutch oven with 2 inches of oil.
Heat the pot over medium heat until oil.
Cut apart the parchment paper so that each donut is on its own square.
Working in batches (DO NOT CROWD THE PAN) place doughnuts in pan paper side up. Peel paper off with tongs.
Cook, flipping only once, 2-3 minutes per side until puffed and golden.
Transfer to wire rack to cool 5 minutes before tossing in bowl of sugar to coat.
PASTRY CREAM
3/4 cup sugar
2 cups whole milk
6
LARGE
egg yolks, lightly beaten
1/4 cup cornstarch
pinch of salt, to taste
1 tablespoon unsalted butter
1 teaspoon
PURE
vanilla extract
1/2 cup passion fruit juice
In a saucepan 1/4 cup sugar and the milk heating over medium heat several minutes until it begins to steam.
Remove from heat immediately.
In a medium mixing bowl whisk remaining sugar, egg yolks, cornstarch and eggs together until smooth.
Ladle 1/4 cup of the hot milk into the egg mixture slowly, whisking the entire time to temper the mixture.
Add tempered mixture back into the saucepan, cooking over medium heat whisking constantly until thick, 3-4 minutes.
Remove from heat and whisk in the vanilla, butter, passion fruit juice and continue to whisk until smooth.
Pour filling into a large glass mixing bowl and cover with saran wrap making sure saran wrap touches the cream mixture (this prevents that yucky custard skin that forms on the top of the bowl.
Set bowl in larger bowl of ice water to cool.
GLAZE

(optional)
2 cups powdered sugar
1/4 cup milk
1 teaspoon
PURE
vanilla extract
Whisk together 2 cups powdered sugar, 1/4 cup milk and 1 teaspoon vanilla until smooth.
When the doughnuts are cool enough to handle, dip into the glaze; if you like, flip them so the tops they're completely covered.
Put on racks to let the glaze harden.
ASSEMBLY
Use a paring knife to cut a slit into one side of each doughnut.
Fill a pastry bag with a medium round tip and the chilled pastry cream.
Pipe about 2 tablespoons of pastry cream into each doughnut.
Lightly dip tops in glaze and place on parchment paper until glaze is set.