This recipe came out of a an old (1960's) cookbook put together for a lake area homeowner's association. I loved the sound of it, but canned pork and beans use mustard in their recipes and I'm deathly allergic so I had to adapt it and the flavor profile was
GREAT
.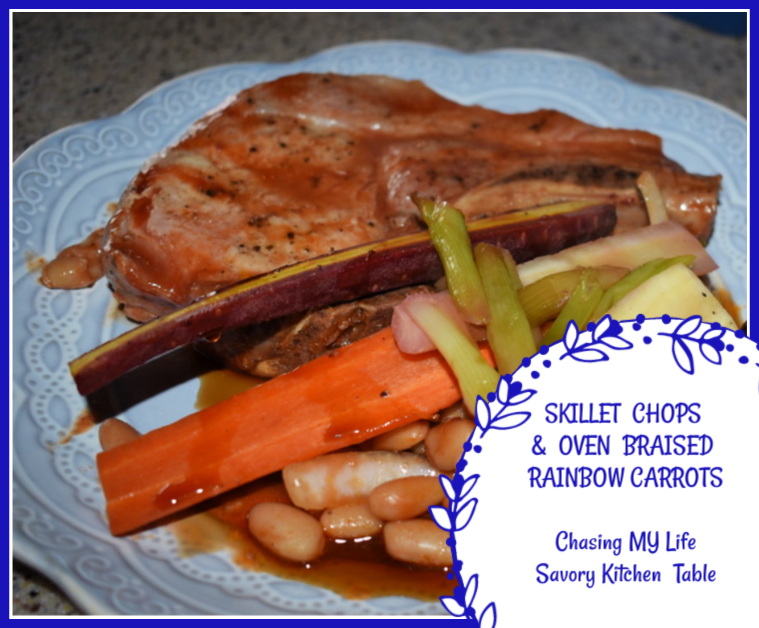 SKILLET CHOPS
2 tablespoons butter
FRESH
ground sea salt and black pepper
4 thick bone in pork chops
1/2 sweet onion, sliced thin
1 can great Northern beans, drained and rinsed
1 cup tomato sauce
2 tablespoons brown sugar
2 tablespoons jalapeno ketchup
Melt butter in cast iron skillet over medium-high heat.
Saute onions 1-2 minutes
Generously season chops on both sides.
Add chops and quickly sear to a golden brown.
Whisk together the tomato sauce, brown sugar and jalapeno ketchup.
Fold beans into sauce.
Arrange beans around pork chops, cover and simmer on LOW 15-30 minutes until chops are cooked through.
OVEN BRAISED RAINBOW CARROTS
1 1/2 pounds rainbow carrots, cleaned and cut to like sizes
4
LARGE
green onions, halved lengthwise
1 teaspoon orange zest
1/3 cup orange juice
3 tablespoons melted butter or avocado oil
1 medium shallot,
FINELY
chopped
1 tablespoon champagne vinegar
FRESH
ground sea salt and black pepper to taste
Preheat oven to 425°.
Whisk together the butter or oil, orange juice, vinegar, orange zest, shallots, FRESH ground salt and pepper.
Toss carrots, and green onions with orange juice mixture.
Pour into a large flat baking dish, cover with foil and bake 15 minutes.
Remove foil and bake another 30 minutes.