I
love
3 bean salad, but I
hate
kidney beans. So, I developed this recipe to cater to my own likes. If you like kidney beans, just add them back in. I've been making this salad for years,
BUT

,
all of a sudden I
CANNOT
find wax beans
ANYWHERE
. So, after 3 stores I decided to substitute sliced carrots and you know what? this recipe just got better! The beauty of this recipe is that it just gets more and more flavorful as time goes on.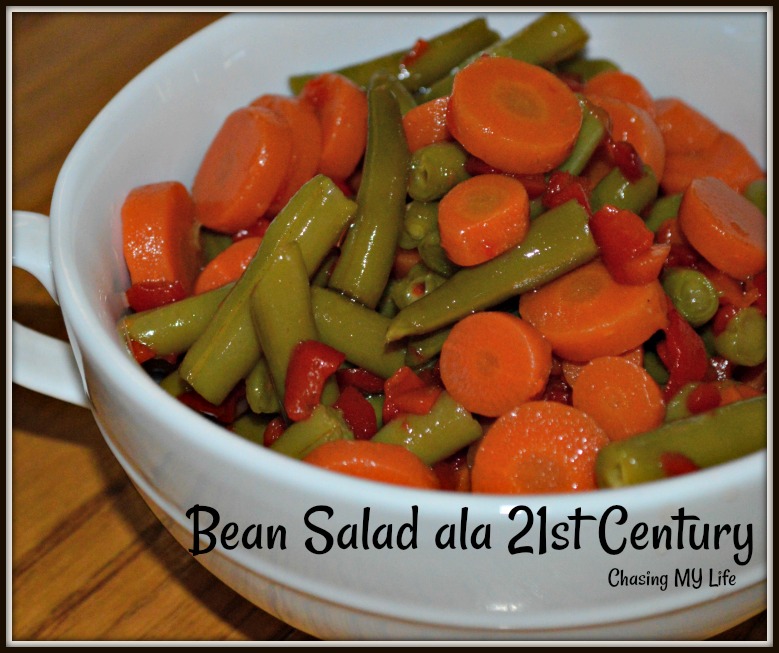 BEAN SALAD ala 21ST CENTURY
2 – 15 ounce cans green beans
15 ounce can sliced carrots
4 ounce jar pimientos
1 cup apple cider vinegar
1 1/4 cups sugar
FRESH ground sea salt and black pepper, to taste
Drain beans, carrots and pimentos REALLY WELL and place into a jar with enough room for the liquid.
In a sauce pan dissolve the sugar and salt into the vinegar and bring it to a boil.
Let it cool.
Pour it over the beans.
Marinate at least 24-48 hours for the best flavor.