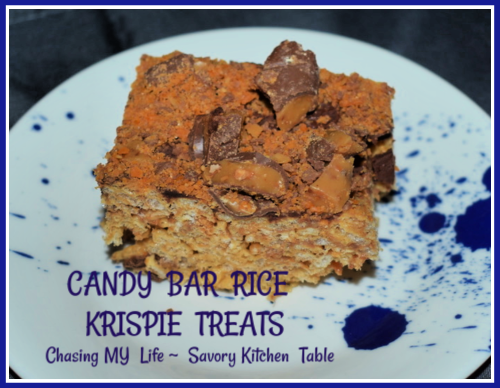 CANDY BAR RICE KRISPIE TREATS
adapted from RecipeGirl.com
1 tablespoon salted butter
1/4 cup creamy peanut butter
3 1/2 cups mini marshmallows
4 cups Rice Krispies
5-6 ounces chopped Butterfinger candy bars (or candy bar of your choice)*
1/2 cup milk chocolate chips
1 teaspoon shortening
Spray an 8×8-inch pan with nonstick spray.
In a large saucepan, melt the butter and peanut butter together over medium heat.
Add the marshmallows, stirring until melted.
Remove from heat and stir in the rice krispies.
Stir in the Butterfingers, reserving 1/4 cup as topping.
Scrape the mixture into the prepare pan and press it evenly into the pan with clean hands.
Let it cool.
Cut the Krispie Treats into nine equal pieces and move them to a platter.**
Melt the chocolate chips and the shortening together in a small saucepan or in a small glass bowl in the microwave or until they are melted and smooth.
Spoon the chocolate into a zip baggie, snip the corner and squeeze the chocolate into the corner.
Drizzle chocolate onto each Krispie Treat and then sprinkle with some Butterfinger crumbs and then drizzle more chocolate on top.
Place the Krispie Treats in the refrigerator for 10 minutes to set the chocolate. Do NOT leave them in the refrigerator – they will get too hard!
Store them in a covered container.
NOTES:
*Use a candy bar with a cookie or nut base along with the chocolate. We prefer Heath bars, KIT KATs or Butterfingers.
**You can eat them as they are or store them in a covered container. Otherwise continue with the topping directions.