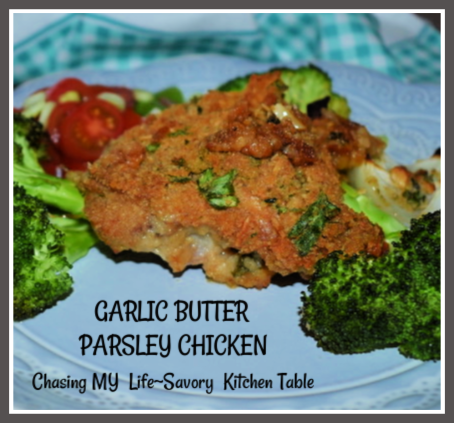 GARLIC BUTTER PARSLEY CHICKEN
Serves 4 to 6
3 pounds bone-in, skin-on chicken thighs (about 6)
FRESH
ground sea salt and black pepper
8 ounces butter
4 cloves garlic, minced
1 1/2 cups seasoned bread crumbs
3/4 cup Parmesan grated cheese
1/4 cup
FRESH
chopped Parsley
1 Vidalia onions, cut into wedges
Avocado oil
2
FRESH
broccoli crowns, cleaned and trimmed
Preheat oven to 350°.
Arrange a rack in the middle of the oven.
Pat the chicken dry with and generously season on all sides with FRESH ground sea salt and black pepper.
Melt butter and whisk in garlic and 1/2 the chopped Parsley in a small bowl.
In another bowl stir together the bread crumbs, cheese and remaining Parsley.
Dip each piece in the butter mixture and then the bread mixture.
Place skin side up on baking sheet sprayed with non-stick cooking spray.
Scatter onion pieces among the chicken.
Place tray in oven and bake 1 hour. DO NOT TURN chicken pieces.
Toss broccoli with avocado oil to coat.
Add broccoli to pan and roast until the chicken is deeply golden brown, crispy, and registers 160º in the thickest part, 20-25 minutes.