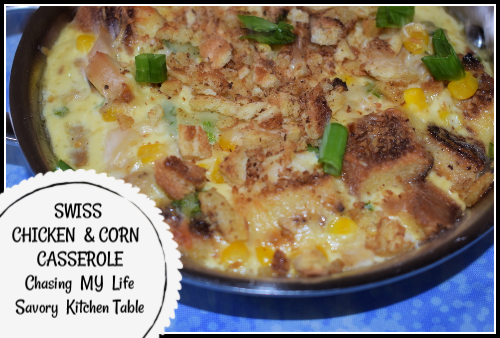 SWISS CHICKEN and CORN CASSEROLE
4 large eggs
1 can (12 ounces) evaporated milk
FRESH
ground sea salt and black pepper
2 cups frozen corn, thawed and drained well
2 cups rotisserie chicken pieces
3 cups shredded Swiss cheese, divided
1/4 cup chopped red onion
3 cups soft bread crumbs
1/4 cup butter, melted
Preheat oven to 350°.
In a large bowl, whisk together the eggs, evaporated milk, salt and pepper.
Stir in corn, chicken pieces, 1-1/2 cups cheese and onion.
Transfer to a greased 11×7 baking dish.
Toss bread crumbs with melted butter; distribute over casserole.
Sprinkle with remaining cheese.
Bake, uncovered, until golden brown and heated through, 35-45 minutes.
Garnish with a bit of green onion for color.
Let stand 10 minutes before serving.
NOTES:
You can use any leftover bread to make the bread crumbs. Using an egg bread gives you a nice golden hue, whereas whole grain bread gives you a heartier texture or sourdough for adds a hint of a tang.
I use rotisserie chicken pieces shredded from a Costco chicken. If I don't have one in the fridge I sear up a couple of large chicken breasts and shred them.
You can change the cheese up a bit to play with the flavor. Sometimes I use a "Vampire Slayer" better known as a garlic cheddar. I mix it half and half with baby Swiss.