I found this awesome and not too sweet Oatmeal cake while surfing the web awhile back and had to make it! My grandmother made one similar quite often. It was always one of my favorites! I've made a few changes to accommodate our tastes and we think it turned out even better than the original.
Oatmeal and coconut go together so well. The cake is over-the-top scrumptious with an incredibly moist batter and ooey gooey coconut topping that self ices the cake. Once cooled, the topping becomes caramel-like and sticky seeping deep into the cake!
The recipe is for a 9×13 pan, but it halves well for an 8×8 if you want a smaller cake.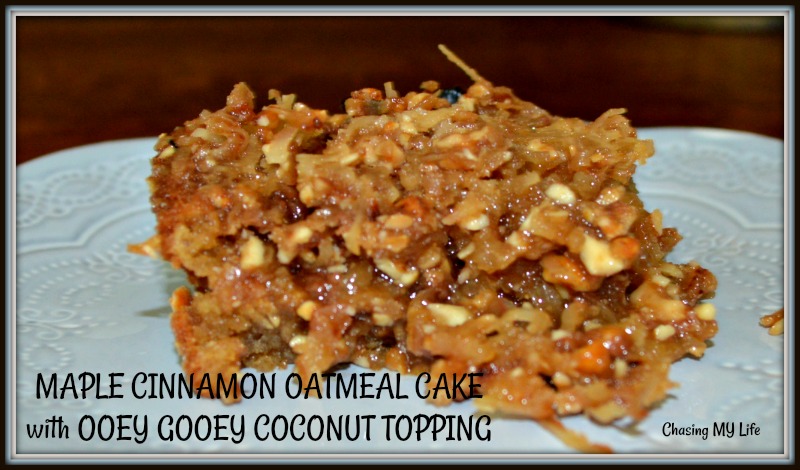 MAPLE CINNAMON OATMEAL CAKE with OOEY GOOEY COCONUT TOPPING
CAKE
1 1/4 cup boiling water
1 cup
OLD FASHIONED
oats
1/2 cup butter, room temperature
1 cup white sugar
1 cup brown sugar, firmly packed
2 eggs
1 teaspoon vanilla
1 teaspoon lemon juice
2 tablespoons
PURE
maple syrup
1/3 cup golden raisins
2 teaspoons baking powder
1/4 teaspoon baking soda
1 teaspoon ground cinnamon
1 1/2 cups AP flour
1/4 nutmeg
1/2 teaspoon salt
Preheat oven to 350°.
Pour boiling water over oats in a small bowl. Allow to sit for 15 minutes.
Cream together butter and sugars. Add eggs. Beat well.
Add in the soaked oats, vanilla, baking soda, flour, cinnamon, nutmeg and salt.
Mix well.
Fold in raisins.
Pour into a greased 9 x 13 pan.
Bake for 30 minutes.
TOPPING
1/2 cup butter, melted
2 cups flaked coconut
1 1/2 cups brown sugar, firmly packed
8 tablespoons milk
1 cup pecans, chopped finely (optional**)
While cake is baking, combine topping ingredients.
JUST after you take the cake from the oven, spread topping over cake.
Increase heat to broil.
Bake under the broiler for a JUST few minutes until top is brown. WATCH CAKE CLOSELY – IT WILL EASILY BURN.
Allow cake to cool COMPLETELY. As it cools, the topping will get thick and sticky while it oozes down into the cake.
ENJOY!
NOTES:
ANY chopped nuts work really.
I often add pieces of chopped dried pineapple to the cake.
I also often add heath bar pieces to the topping for some extra crunch.