On
Molly Yeh's
show last week she had the most unusual salad that we just had to try. Now because of the quarantine and so many ingredients being unavailable I did have to make a substitution for the snap peas where I used
FRESH
green beans, but look forward to next time using snap peas. I also had some shredded rotisserie chicken pieces for some protein. It was really yummy!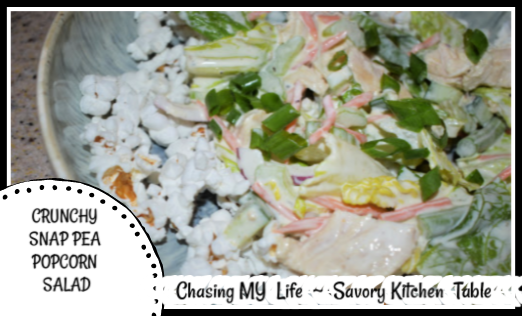 CRUNCHY SNAP PEA POPCORN SALAD
1/3 cup popcorn kernels
Vegetable oil, as needed for popping
White Cheddar popcorn seasoning, for the popcorn
1/2 cup mayonnaise
1/4 cup sour cream
2 tablespoons cider vinegar
1 tablespoon sugar
2 teaspoons Dijon mustard
1 shallot, thinly sliced
Kosher salt and freshly ground black pepper
2 cups sugar snap peas, strings removed, cut crosswise into thirds
1 cup shredded carrot
1 cup chopped celery plus 1/2 cup tender inner celery leaves
1 bunch watercress, trimmed and torn into bite-size pieces
Pop the popcorn in a popcorn popper according to the manufacturer's instructions. You should have 12 cups.
While popcorn is still hot, sprinkle with the white Cheddar popcorn seasoning to taste and let cool completely.
Whisk the mayonnaise, sour cream, cider vinegar, sugar, and Dijon together in a large serving bowl. Stir in the shallot.
Season with salt and pepper to taste, but remember the popcorn is already salty.
Add the snap peas, carrot and chopped celery and toss to coat.
Add the popcorn and toss to coat the kernels in the dressing.
Pile the watercress on top and sprinkle with the celery leaves.
Serve immediately.