POLYNESIAN CHICKEN ala SLOW COOKER & HAWAIIAN POTATO SALAD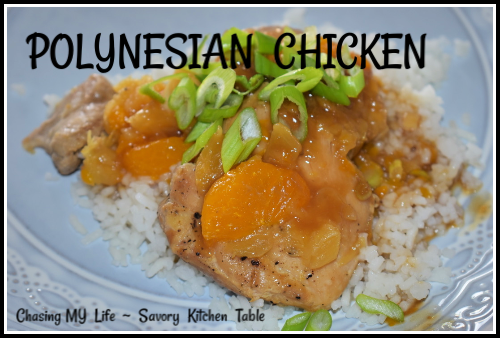 POLYNESIAN CHICKEN
2 pounds skinless, boneless chicken thighs
FRESH
ground sea salt and black pepper
1 tablespoon avocado oil
1
LARGE
can crushed pineapple, drained –
reserve juice
1 can mandarin oranges, drained –
reserve juice
8 ounce can water chestnuts, drained
1 cup chicken broth
1/4 teaspoon ground ginger
2 cloves garlic, minced
2 tablespoons + 2 tablespoons apple cider vinegar
1 tablespoon + 1/4 cup Bragg's liquid aminos
1/4 cup cornstarch
1/2 cup green onions, sliced diagonally
prepared white rice
Generously season chicken with FRESH ground salt and pepper.
Heat oil in skillet over medium-high heat.
Sear chicken 2-3 minutes per side.
Add chicken to slow cooker.
Scatter pineapple and oranges over chicken.
Whisk together the pineapple juice, orange juice, chicken broth, ginger, 1 tablespoon liquid aminos, 2 tablespoons apple cider vinegar and garlic.
Pour over chicken, cover and slow cook on low 6 hours or until chicken is tender.
Remove chicken with slotted spoon to a plate and keep warm.
Whisk together 1/4 cup Bragg's liquid aminos, cornstarch and 2 tablespoons apple cider vinegar.
Whisk into slow cooker.
Add in green onions and cook, whisking frequently, uncovered on high for 10 minutes until thickened to desired consistency.
Serve over rice.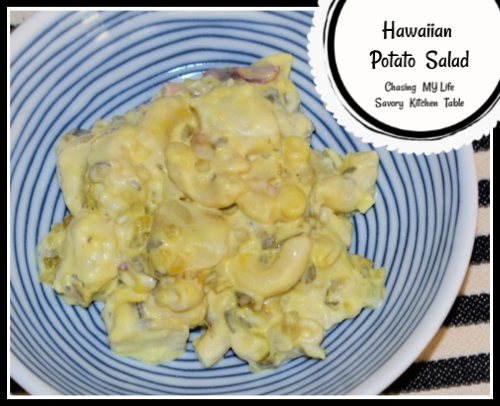 HAWAIIAN "POTATO" PASTA SALAD
1/2 cup apple cider vinegar
1 tablespoon sugar
1 teaspoon salt
1/2 red onion, halved and thinly sliced
2
FRESH
jalapenos, 1 sliced thin into rings, 1 finely seeded and chopped
2 pounds new red, or golden fleshed potatoes, halved
3/4 cup dry (uncooked) small shell pasta (elbows work too)
2 eggs, hard boiled, peeled, and finely grated
2 stalks crispy celery, thinly sliced
4-6 sweet pickles, chopped small
1 – 1 1/2 cups mayonnaise
2 tablespoons whole grain mustard (optional)
FRESH
ground sea salt and black pepper, to taste
Whisk together the vinegar, sugar and 1 teaspoon salt.
Add onions and jalapenos. Marinate at least 30 minutes and up to 2 hours, stirring occasionally.
Drain, reserving pickling juice.
Put potatoes in a large pot, cover with cold water, add 2 tablespoons salt.
Bring to a boil over high heat. Turn down heat to maintain an easy boil and cook until just tender.
Drain potatoes and rinse well with cold water to stop cooking and cool the postatoes. Chop into about 1 inch cubes, and set aside.
Cook pasta per package instructions until al dente. Drain, rinse thoroughly with cold water.
Add diced potatoes and cooked pasta to large bowl.
Add the eggs, celery, sweet pickles and drained onion and jalapenos. Add one cup mayonnaise, mustard, 1/2 of the pickling juice and salt and pepper, to taste, to the bowl.
Mix gently to combine and evenly distribute dressing.
Add more mayo as necessary, if mixture is not well covered with dressing.
Taste, adjust seasonings, and add more pickling juice, if desired.
Refrigerate for at least 2 hours so flavors meet one another and get all friendly.
Serve chilled.