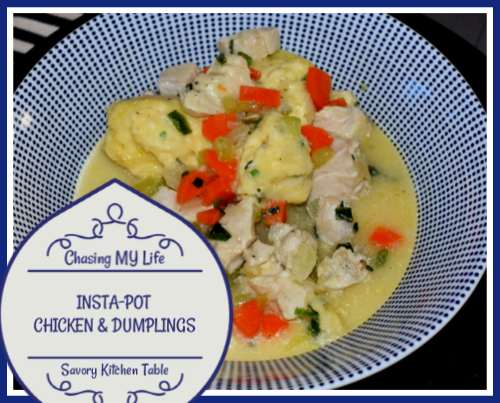 INSTA-POT CHICKEN & DUMPLINGS
DUMPLINGS
1 1/4 cups all purpose flour
1/2 cup
FRESH
finely chopped Parsley
1/4 cup yellow cornmeal
2 tablespoons chopped
FRESH
chives
1 tablespoon baking powder
FRESH
ground sea salt and black pepper
3/4 cup
WHOLE
milk
3 tablespoons butter, melted
Whisk the flour, cornmeal, baking powder and salt together.
Stir in milk, butter, Parsley and chives JUST until the batter comes together.
Set aside.
CHICKEN
2 tablespoons avocado oil
2 tablespoons butter
3 carrots, sliced thin
2 stalks celery, sliced thin
1
LARGE
shallot, sliced thin
FRESH
ground sea salt and black pepper
2 tablespoons WONDRA flour
2 sprigs
FRESH
thyme, leaves only
1 1/2 pounds boneless, skinless chicken breasts or tenders, cut into 1 inch pieces
3 1/2 cups chicken broth
Set insta-pot to saute'.
Add avocado oil and butter.
When butter is melted, add carrots, celery and shallots.
Season with salt and pepper, cooking 3-4 minutes until softened.
Stir in flour and thyme.
Add chicken, stirring to coat.
Stir in chicken broth and press cancel.
Place 12 scoops of batter evenly into pot.
Lock lid into place. Be sure the vent is in the sealed position.
Pressure cook for 3 minutes.
Turn steam valve into the venting position an allow steam to release naturally for 15 minutes.
Unlock lid and remove.
Ladle the chicken and dumplings into bowls.