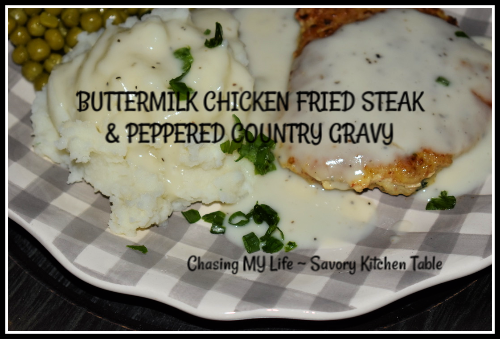 BUTTERMILK CHICKEN FRIED STEAK
2 cups buttermilk
2
LARGE
eggs, beaten
4 pork cube steaks
FRESH
ground sea salt and black pepper
1/3 cup WONDRA flour
1/2 cup seasoned bread crumbs
2 tablespoons butter
2 tablespoons avocado oil
Place steaks in a single layer in a shallow dish.
Pour buttermilk over steaks and chill 1-2 hours.
Heat oil and butter in large skillet.
Combine flour and bread crumbs in shallow bowl.
Add beaten egg to another shallow bowl.
Season pork cube steaks with salt and pepper.
Dredge steaks through eggs and then flour before adding to hot oil.
Sear until golden, flip and sear other side.
Serve with mashed potatoes and peppered gravy.
PEPPERED GRAVY
3 tablespoons butter
5 tablespoons Wondra flour
1 1/4 cups whole milk
3/4 cup whipping cream
3/4 teaspoon salt
1/2 teaspoon Black pepper + (to taste)
Melt butter into bottom of pan you just cooked the chicken in.
Scrape up any of the chicken pieces and mix into new butter.
Add flour slowly, stirring until absorbed by butter and golden brown.
Slowly add first the milk and then the cream.
Stir constantly until thickens.
If necessary sprinkle in more Wondra until desired thickness is reached.
Serve over chicken and mashed potatoes.