You know me, I prefer to scratch cook 100% of the time. Okay 99% of the time. But this dump cake with the cherry pie filling and buttery cake mix topped with the almonds, pecans or walnuts really makes this a quick, yet flavorful dessert for unexpected company or a church potluck. The addition of the cream cheese makes this is a serious upgrade to your mother's dump cake of the 90's. I just haven't yet converted the cake mix into a scratch version that works as well as the store bought mix.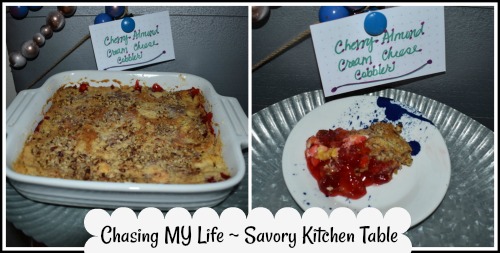 CHERRY ALMOND CREAM CHEESE COBBLER or DUMP CAKE adapted from Tablespoon Kitchens serves 12
2 – 21 ounce cans COMSTOCK TART cherry (see notes) pie filling
1/2 teaspoon almond extract
8 ounces cold cream cheese, cut into 1/2-inch cubes
1 box yellow or white cake mix (both work well, but preferably the moist version)
3/4 cup butter, melted
1/2 cup chopped pecans, almonds or walnuts
2 tablespoons powdered sugar
Heat oven to 350°.

LIGHTLY spray a 13×9 baking dish with cooking spray.

In medium bowl, mix together the cherry pie filling and almond extract.

Spread evenly in the bottom of baking dish.

Top evenly with cubed cream cheese pieces.

Sprinkle evenly with dry cake mix.

Evenly pour melted butter over cake mix, covering as much and as evenly as possible.

Sprinkle with chopped almonds or chopped walnuts.

Bake 45 to 50 minutes or until top of cake is golden brown and bubbling on edges.

Cool 15 minutes.

Sprinkle with powdered sugar just before serving.
NOTES:
With just the two of us, I measure the cake mix and then save half for another time and halve the other ingredients as well while baking in an 8×8 baking dish.


The cherry can also be traded with Peach or Blueberry with excellent results.

If you want to go elegant this recipe prepares well in individual ramekins if you want to take the time to measure everything evenly. 😀