I hadn't made this recipe in a
LOOOOOONNNNNNNNNNNG
time. I made it during the winter storm a few days ago because it has a lot less sugar and I was hoping to get a few bites myself.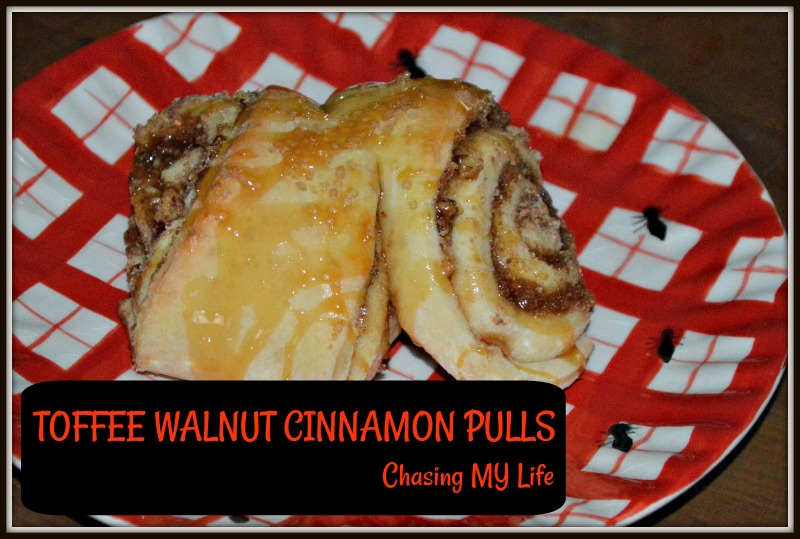 TOFFEE WALNUT CINNAMON PULLS
DOUGH
2 1/2 - 3 cups
KING ARTHUR
all purpose flour
1 package
Fleischman's
Active Dry Yeast
3/4 cup milk 1/4 cup fine sugar
1/4 cup butter
1 teaspoon salt
1
LARGE
egg
In the bowl of your mixer combine 1 1/4 cups of the flour and package of yeast.
In a small saucepan combine the milk, sugar, butter and salt heating just until warm (120-130°) and butter almost melts.
Add milk mixture to flour mixture, mixing until just incorporated.
Add egg beating on low 1 minute, scraping bowl continuously. Beat on high 3 minutes.
Add as much of the remaining flour as possible.
Turn dough out onto lightly floured surface, kneading until you have a soft, smooth, elastic dough, 3-5 minutes.
Shape dough into a ball and place in a lightly greased bowl, turning dough to coat in grease. Cover and place in a warm place to rise to double in size, about 90 minutes.
Punch dough down and turn out onto lightly greased surface.
Cover and let rest 10 minutes.
Grease a baking sheet. Set aside.
FILLING
1/4 cup fine sugar
1/4 cup brown sugar
1/3 cups chopped walnuts, ground fine**
1/3 cup Heath bar toffee bits
2 teaspoons
QUALITY
RED APE cinnamon
2 tablespoons butter, melted
Caramel ice cream topping - warmed (Optional)
Combine sugars, walnuts, cinnamon and toffee bits.
**NOTE:
I measure straight from the bag and then use my mini food processor to grind the nuts slightly. This gives a better coverage on the dough.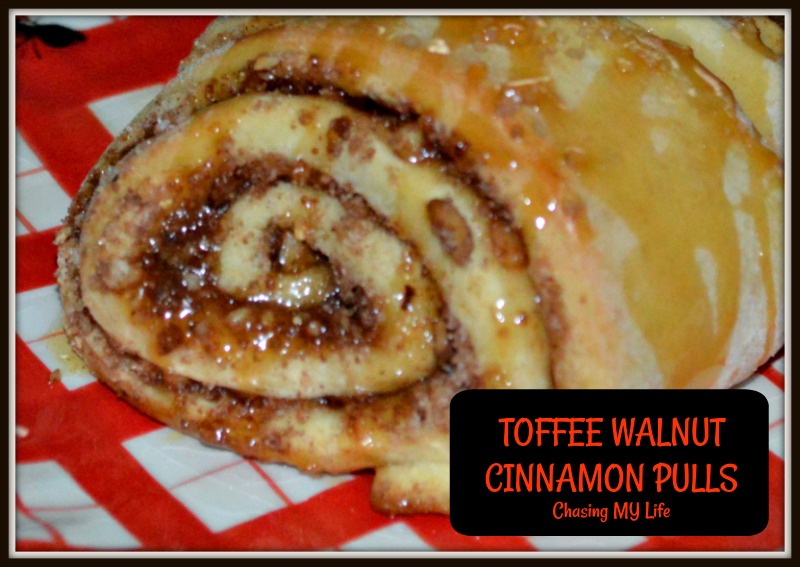 ASSEMBLY
2 tablespoons butter, melted
Roll dough into a 20 inch x10 inch rectangle.
Brush with melted butter.
Evenly sprinkle nut mixture over butter, leaving about 1 inch unfilled along a long edge.
Roll up from the long filled edge, sealing seam by pinching dough together.
Place seam side down and cut into 8 equal portions.
Cut each piece (once from each side) at the 1/3 third mark, BUT DO NIT CUT ALL THE WAY THROUGH.
Place each roll on prepared baking sheet 3 inches apart. As you arrange each piece gently pull each end to fan the roll slightly.
Cover and place in warm place to rise again for 45 minutes.
Preheat oven to 350°.
Bake 12-15 minutes or until golden.
Drizzle with caramel ice cream topping.