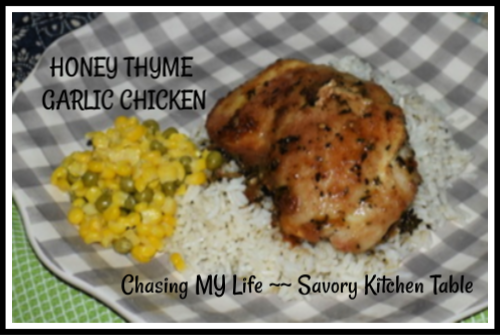 HONEY THYME GARLIC CHICKEN
3 tablespoons butter
1 teaspoon garlic powder
1 teaspoon onion powder
2 teaspoons
FRESH
chopped thyme
FRESH
ground sea salt and black pepper
6 boneless chicken things
2 tablespoons
QUALITY
honey
Juice of 1
LARGE
lemon
Melt butter in skillet over medium heat.
Add garlic powder. onion powder, thyme, salt and pepper, cooking until fragrant.
Add chicken pieces to skillet, turning to coat.
Sear one side, 4-5 minutes.
Turn to other side, reduce heat to low, cover and cook 10-15 minutes until cooked through.
Remove chicken to plate.
Skim off fat and return chicken to skillet.
Whisk together the lemon juice and honey.
Drizzle over chicken and cook 3-5 minutes.
Serve over rice.