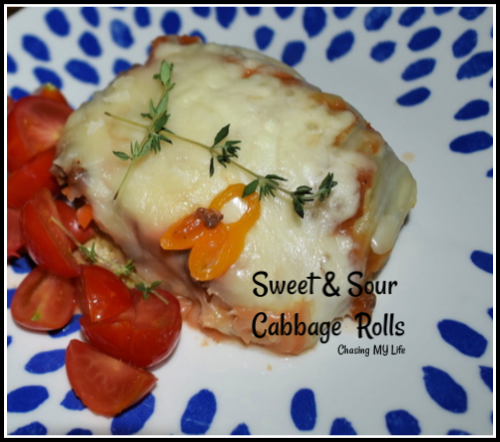 SWEET & SOUR CABBAGE ROLLS
8 WHOLE cabbage leaves
1 tablespoon avocado oil
1 large Vidalia onion, diced
1 cup carrot sticks
1/2 cup sliced red pepper
1/3 pound ground sirloin
1/3 pound ground pork
1 tablespoon FRESH chopped thyme
FRESH ground sea salt and black pepper
3 tablespoons tomato paste
3 tablespoons red wine vinegar
3 tablespoons PURE maple syrup
1 tablespoon Worcestershire sauce
1 3/4 cups tomato sauce
1 cup shredded Mozzarella cheese
Preheat oven to 350°.

Stack leaves in a large dutch oven and cover with boiling water.

Cover and bring to a boil for 4-6 minutes until cabbage is JUST tender enough to be pliable.
DRAIN and cool leaves on towel.

In a large skillet heat oil.

Brown beef and pork JUST until crumbly.

Add onion and saute' 5 minutes.

Add carrots and peppers, sauteing a couple minutes more.

Add tomato paste and stir to coat.

Add Worcestershire sauce, vinegar and syrup, stirring to mix well and stirring often.

Bring to a simmer.

Remove from heat.

Spoon 1/4-1/3 cup of mixture into each cabbage leaf rolling and tucking in the edges.

Arrange rolls in baking dish seam side down.

Top with tomato sauce, cover and bake 20 minutes.

Add mozzarella and return to oven uncovered until cheese melts and rolls are heated through.

Let stand 5 minutes before serving.