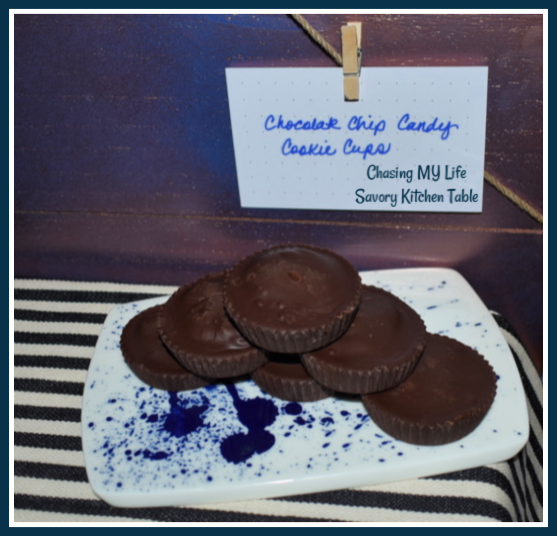 CHOCOLATE CHIP CANDY COOKIE CUPS yields 24 cookie cups
6 tablespoons butter, melted
1/2 cup light brown sugar
3 ounces cream cheese, softened
4 tablespoons sugar
2 teaspoons PURE vanilla
1 1/4 cup flour
1/4 teaspoon salt
3/4 cups mini chocolate chips
Combine melted butter, cream cheese, sugars in a mixing bowl until smooth.

Add vanilla until well combined.

Sift flour and salt into mixture and blend well.

Fold in chocolate chips.

Roll into small balls.
1 1/2 cups semi-sweet chocolate chips
Melt 3/4 cup chocolate chips for 60 seconds in microwave until smooth. If 60 seconds isn't enough continue to heat in 20 second increments until smooth.

DO NOT BURN

!

Line a cookie tin with cupcake liners.

Pour the chocolate evenly into the liners.

Add a cookie ball to each liner.

Slightly flatten each cookie ball.

Top each cookie ball with remaining chocolate.

GENTLY shake or bounce pan to even out the chocolate.
Chill

AT LEAST

1 hour to harden cookie cups.

Enjoy!