I found this scrap of a recipe in my BIG bin of recipe scraps and the name POSITANO chicken intrigued me so I did a little research and decided to make the recipe. Positano is a cliff side village on the Amalfi coast that is known primarily for seafood, FRESH pasta and Buffalo Mozzarella cheese. So, I have NO idea why this recipe was originally written for chicken 😀 but it was and I have adapted it to fit not only chicken, but also pork. Since cheese and seafood are not usually a great mix I have no real plans to adapt it to the seafood that the Amalfi coast is famous for. Overall it kind of reminds me of an Italian version of Chicken Kiev.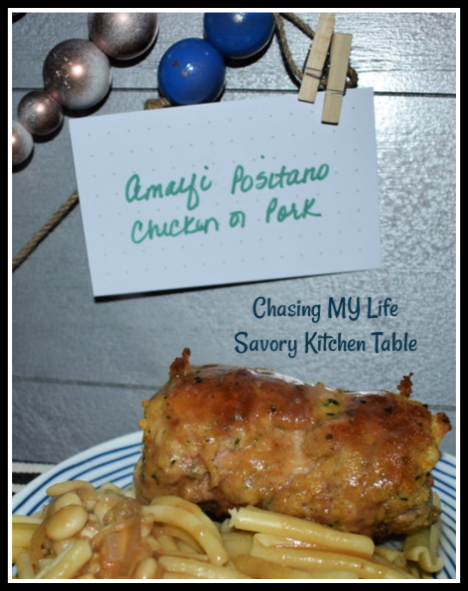 AMALFI POSITANO CHICKEN or PORK serves 6
6 – 8 ounce boneless, skinless chicken breasts
1/3 pound ground Italian sausage, cooked crumbly, drained of grease and cooled
1/2 cup grated Romano cheese
3 cups grated Mozzarella cheese
1/2 cup roasted red pepper, diced and cooled
1/4 cup FRESH small torn basil leaves
2 cups all purpose flour
6 eggs, whisked
3 cups seasoned Italian bread crumbs
3 tablespoons avocado oil
Preheat oven to 350°.

Line a baking tray with foil LIGHTLY sprayed with non-stick cooking spray.

Cover chicken breasts with plastic wrap and pound chicken breast (or pork chop) until all breasts

are the same thickness around under 1/2 an inch.

Mix together the Romano cheese, Mozzarella cheese, chopped peppers, crumbled sausage and basil pieces until well blended.

Place about 1/2 cup of cheese mixture in the center of each chicken breast. Fold chicken breast over and seal edges with toothpicks.

Set up a dredging station with flour, eggs and bread crumbs.

Dredge each chicken breasts in flour, then eggs followed by bread crumbs.

Heat oil in a large skillet over medium high heat.

Add chicken breasts in batches, sauteing 2-3 minutes all sides until golden.

Place chicken pieces on baking tray.

Bake 8-10 minutes until cheese begins to ooze from the edges.

Serve over prepared pasta or mashed potatoes.

Top with Marsala sauce. (recipe below)
MARSALA SAUCE
3 tablespoons avocado oil
1/4 cup shallot, diced
1 clove garlic, minced
1/2 pound Beech mushrooms
3 tablespoons WONDRA flour
1/2 cup Marsala wine
1 1/2 cups beef stock
FRESH ground sea salt and pepper, to taste
Add oil to heavy hot saucepan.

Add shallots, garlic and mushrooms, sautéing until mushrooms are tender.

Add flour and cook about 1 minute.

Deglaze pan with Marsala wine.

Add beef stock and cook until thick and flavors are blended.

Adjust seasoning and serve over meat and pasta.
NOTE: When I substitute the chicken for pork, I use center cut pork loin chops. I also substitute the Romano for Fontina cheese.