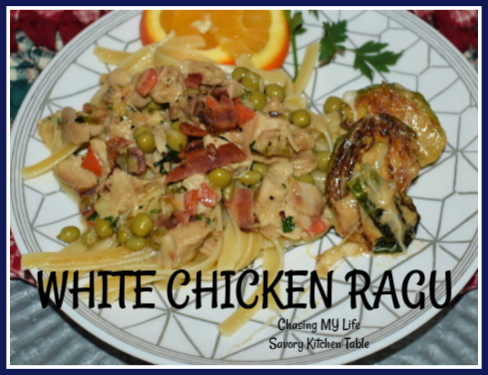 WHITE CHICKEN RAGU
serves 4
1 tablespoons avocado oil
4 slices pancetta, finely chopped (plain old bacon works too)
2 cloves garlic, minced
1 pound boneless, skinless chicken thighs
WONDRA flour for dredging
FRESH
ground sea salt and black pepper
1 1/2 cups Sofrito (recipe below)
3 tablespoons dry white wine
1 cup chicken stock
2 green onions, minced
2 sprigs
FRESH
thyme
1/4 cup heavy cream
1 small can Le Seur peas, drained well
6 ounces fettuccine
1/4 cup grated Parmesan cheese
1 tablespoon unsalted butter
1 teaspoon lemon zest
chopped Flat Leaf Parsley for garnish
Heat oil in large saute pan over medium heat.
Add pancetta, stirring often until fat is rendered, about 5 minutes.
Using a slotted spoon, transfer pancetta to paper toweling to drain.
Add garlic and increase heat to medium high.
GENEROUSLY season chicken thighs with FRESH ground sea salt and black pepper. Dredge in WONDRA flour and add to pan.
Sear chicken until golden on both sides.
Transfer chicken to plate and keep warm.
Drain all but 1 tablespoon of oil and garlic.
Add sofrito and wine, bring to a simmer and cook until reduced by half, about 3 minutes.
Add green onions and thyme. Reduce heat to medium low and simmer 5-10 minutes.
Return chicken to pan, turning to coat well.
Simmer 3-5 minutes.
Remove chicken from sauce to plate and keep warm. Let both stand 10 minutes.
Prepare fettuccine per package directions, reserving 1/2 cup of cooking water.
Skim fat from sauce.
Stir in cream and heat through, 5-10 minutes, until sauce thickens and reduces slightly.
Stir reserved bacon into sauce.
Shred chicken and add to sauce.
Fold peas into sauce.
Season to taste.
Add butter, Parmesan, lemon zest and pasta to sauce. Add as much pasta water as necessary to make sauce creamy.
Garnish with parsley.
SOFRITO
– The Italian version of mire poix
1 large stalk celery, chopped small
1 small yellow onion, chopped small
1 small carrot, chopped small
1/2 cup flat leaf parsley, chopped small
1/8 cup avocado oil
Heat oil in skillet over medium heat.
Add everything and cook, stirring regularly, until vegetables are soft and onions are translucent.