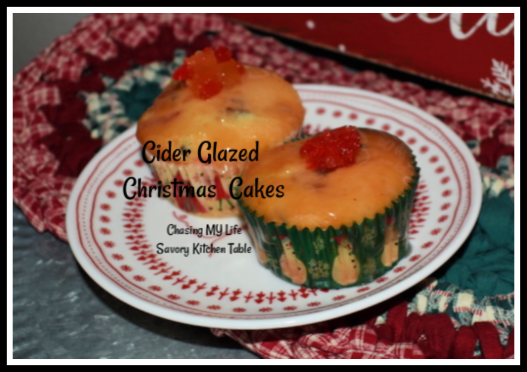 CIDER GLAZED CHRISTMAS CAKES
CAKES
¾ cup golden raisins
¾ cup dried cranberries or tart dried cherries
¾ cup candied pineapple
½ cup apple cider
1 ¾ cups all purpose flour
1 ½ teaspoons baking powder
¼ teaspoon fine salt
²⁄³ cup butter, softened
1 cup sugar
2 eggs
²⁄³ cup whole milk
In a small bowl combine the raisin, cranberries (or cherries) and pineapple pieces.

Toss with apple cider.

Let stand 1 hour.
Drain fruit, reserving liquid for making your cider drizzle and reserve 2 tablespoons of fruit to chop as garnish.

Preheat oven to 350°.

Line muffin tins with papers or spray well with non-stick cooking spray.

In a medium bowl sift together the flour, baking powder and salt. Set aside.
In a large mixing bowl beat butter on medium speed until smooth.

Add sugar, beating until fluffy.

Add eggs, one at a time, beating well after each addition.

Add flour mixture and milk, alternately, beating well after each addition.

Fold in drained fruit.

Scoop 3 tablespoons of batter into tins.

Bake 15 minutes or until toothpick comes out clean.

Cool for 10 minutes before removing from pan.

Spoon a small amount of drizzle over each cake.

Garnish with a bit of chopped dried fruit.
CIDER DRIZZLE
Reserved soaking liquid + enough water to equal 1 cup
2 tablespoons coconut pineapple vinegar (apple cider vinegar works also)
1/2 cup powdered sugar
2 tablespoons cornstarch
Whisk together, cook and stir until thickened and bubbly, about 5 minutes.

Cool 10 minutes before spooning over cakes.
NOTE:
Bourbon or Whiskey can be substituted for apple cider.
ALTERNATE DRIZZLE
1/3 cup butter
2 cups powdered sugar
1 cup apple cider
Whisk together until smooth.
Glaze cupcakes