Those of you that know me, know that I
SCRATCH
cook. Every now and then hubby begs, yep actually begs, for something like Stove top stuffing or Kraft Mac and cheese or an occasional canned good. This recipe is the
PERFECT
comfort food for an easy weekend meal that's full of flavor and checks all his boxes!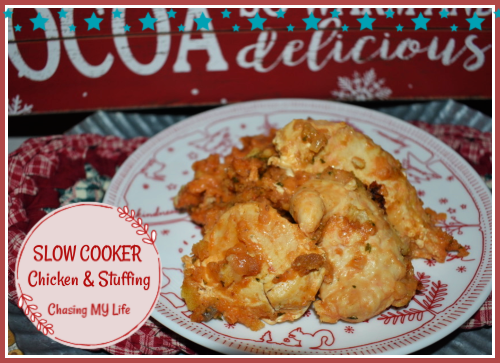 SLOW COOKER CHICKEN & STUFFING
1 1/2-2 pounds boneless, skinless chicken breasts
FRESH ground sea salt and black pepper
1/2 teaspoon poultry seasoning
1 cup shredded Monterey Jack cheese
1 can Campbell's cream of celery soup
1 can Campbell's tomato soup
2/3 cup half and half
1/2 cup sour cream
2 boxes Stove Top savory herb stuffing
3/4 cup butter, melted
Parsley, for garnish
Coat slow cooker insert with non-stick cooking spray.

GENEROUSLY season the chicken with FRESH ground sea salt, black pepper and poultry

seasoning.

Place chicken in the bottom of slow cooker.

Sprinkle with cheese.

Whisk together the soups, sour cream and half and half.

Pour over cheese.

Sprinkle stuffing mixes evenly over the soup.

Pour the melted butter over the stuffing mixes.

Cover and set on Low for 4 hours.
NOTES:
This recipe works best in the rectangular flat slow cooker by crock pot.

If using chicken tenders decrease time to 3 hours.