When I was a kid, Honey Baked Spiral Hams were all the rage and are still quite popular. BUT, in my opinion they have lost a little something over the years. I don't know if they have changed the recipe or downgraded the ingredients to make them more profitable, but I find them a bit dry and flavorless anymore. So I make my own these days. I start with a whole ham that has the fat cap still attached to keep all the juices in. Scoring the fat cap and roasting the ham with the brown sugar pepper rub results in a sticky, crispy sweet and peppery crusted juicy ham.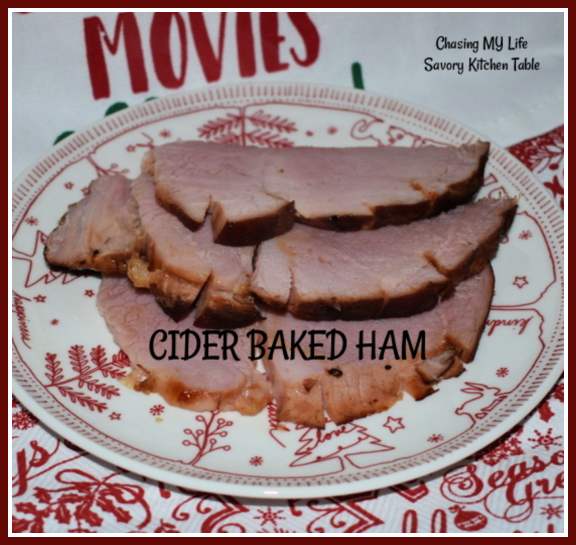 CIDER BRINED BAKED HAM
1 cinnamon stick, broken into pieces
10 whole cloves
2 star anise stars
9 cups apple cider, divided 4 cups + 1 cup + 4 cups
8 cups ice cubes
7-10 pound shank end , bone-in cured ham (I used an 8 1/2 pound)
1 large oven baking bag
¼ cup molasses
2 tablespoons Dijon mustard (optional)*
In a large sauce pan toast cinnamon, cloves and star anise about 3 minutes until fragrant.

Add 4 cups of apple cider and bring to a boil.

Pour into a large stockpot (that the ham will fit into), add 1 cup apple cider and 4 cups of ice and stir until melted.

Trim ham to ¼ inch thickness of fat and score with a cross hatch pattern.

CAUTION

: Cut down into fat, but

NOT

into the meat!

Add ham to the stock pot apple cider mixture, cover and refrigerate for 12-24 hours. The liquid should just about cover the ham.
Remove ham from marinade and add to baking bag already placed in roasting pan.

Add 1 cup of marinade to baking bag, tie securely and cut 4 slits in top of bag.

Let stand at room temperature for 1 ½ hours.
Preheat oven to 300°.Bake 1 ½-2 ½ hours until ham registers 100°.
While ham is roasting, add remaining 4 cups of apple cider, molasses and mustard or horseradish to a medium saucepan, whisking until well blended.

On a medium low heat, stir often, cooking for about 2 hours until mixture is very thick and reduced to about ¹⁄³ cup. WATCH towards the end of the 2 hours, it will burn easily!
1 cup
PACKED
dark brown sugar
1 teaspoon
FRESH
ground pepper
Combine sugar and pepper in small bowl.

Remove roasting pan from oven and let ham rest 5 minutes.

Increase oven temperature to 400°.

Open oven bag and fold back to expose the ham.

Brush with the reduced cider mixture and carefully press the sugar and pepper mixture into the fat cap.

Return to oven without resealing the bag and bake 20 minutes until browned and caramelized.

Transfer to cutting board and tent with foil. Let rest 15 minutes.

Carve and serve.
NOTE
: I'm deathly allergic to mustard so I substitute creamy horseradish.