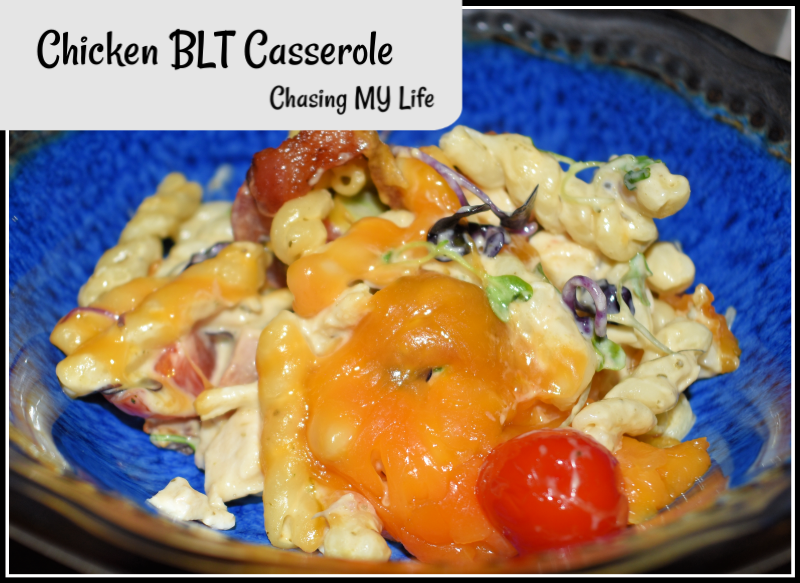 CHICKEN BLT CASSEROLE
serves 6
12 ounces Barilla cellentani or rotini pasta
6 slices bacon, chopped, cooked until crispy
3 cups rotisserie chicken pieces
2 cups alfredo sauce (homemade or jar** – your choice)
2 cups cherry tomatoes, halved
1 1/2 cups micro arugula
2 large green onions, sliced thin
FRESH
ground sea salt and black pepper, to taste
1 1/2 cups shredded sharp cheddar cheese
Preheat oven to 350°.
Spray 3 quart baking dish with non-stick cooking spray.
Cook pasta al dente per package directions. Drain well.
In a large mixing bowl toss pasta with chicken pieces.
Add alfredo sauce and toss until well coated.
Season to taste with FRESH ground salt and pepper.
Fold in green onions, bacon pieces and tomatoes.
Cover and bake 25 minutes.
Top with cheese and return to oven uncovered for 5-10 minutes until cheese is melted and bubbly.
Enjoy.
NOTES
:
This recipe is good leftover.

BUT

is

BEST

FRESH

because of the lettuce and tomato.
RAGU makes a basil alfredo that is super yummy!